I'm working with a new site that aims to make online shopping easier for us bargain hunters. I tested the site out myself, and think it's got real potential. I'm partnering with them to offer you, my dear readers, a quick way to make money. Give 15-minutes of feedback on the site and get a $15 Target gift card!
How to get $15 for giving feedback
Here's the deal. Getting the best deal online can be a hassle. You have to jump between multiple sites to compare prices, then check for a cash back rebate, then find a coupon, and lastly, hunt down free shipping.
Pocket-Rewards.com aims to make it easy. No more jumping from site to site to stack the best prices with the best cash back reward and the most valuable coupons. But the site is still forming, and it wants to know what savvy bargain hunters like us think about it.
I took the survey myself to earn a $15 Target gift card.
Here's a little bit more about the site before I tell you how to take the survey. With one search, Pocket-Rewards.com does it all for you. The site will find:
Highest cash back offer
Best coupon codes
Free shipping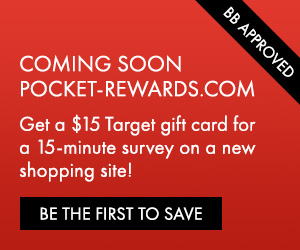 Set price alerts
Plus, the site lets you set a price alert on any item you are shopping for. Say you want to buy an ErgoBaby carrier (they really are awesome!) but you're waiting until the price dips below $95 (it happens!). You can use Pocket-Rewards to set a price alert, then the site will email you when they find it for sale (within $5). You can also get notifications by text or via Facebook.
Coupons + cash back
They literally have thousands of coupons. More than 1,000 stores are working with the site, and more are on signing on everyday. Every store also has a cash back rebate with occasional bumps in the cash back rate.
How to get your $15 Target gift card
A very nice lady named Lois is collecting the feedback. She is Pocket-Rewards' product manager – a real person who I spoke to myself! Email her here to sign up. If the link doesn't work for you, email lois at pocket-rewards dot com. A few weeks after you give feedback, you'll receive your $15 Target gift card in the mail.