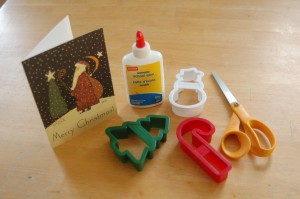 Before you toss out your holiday cards, sift through them and save the ones with pretty artwork. This craft project also works with photos, though they will need a bit more attention in the gluing phase. It's easy – and free – to turn old Christmas cards into Christmas ornaments! All you need is:
old Christmas cards
scissors
glue
ribbon
cookie cutters (optional)
I love making Christmas tree ornaments out of paper cards because they don't break, I don't care if the kids or the dog eats them, and they remind me of the people who sent me holiday wishes. You can also turn holiday cards into paper chains, a kissing ball, or wall ornaments. Forget spending money on Christmas decorations, just use the ones at your fingertips!
Here's how to upcycle Christmas cards into Christmas ornaments
Step 1. Race and Cut shapes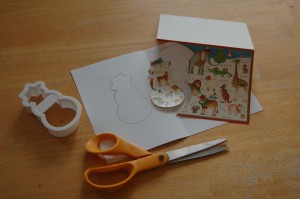 Cut out shapes from an old Christmas card. It doesn't matter if there is writing on the back. You can cut any sort of shape from the card: a circle, rectangle, square, a tree, snowman, wreath, sleigh, etc. I like to free hand it, but you can also use cookie cutters to trace a clean outline before the first cut.
Step 2. Cut the same shape again.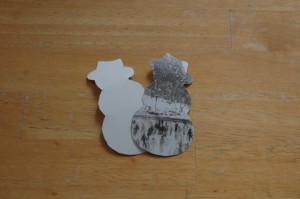 Grab a second holiday card and use your cookie cutter or your first shape to trace the same shape onto the *back* of the second card. If you trace it onto the front, and if your shapes aren't symmetrical, they won't line up correctly. Here's another way to remember to trace the shapes correctly: first trace onto the front, then trace onto the back.
Step 3. Snip a piece of ribbon six inches long. That's about the distance from the bottom of your palm to the top of your middle finger. Glue the backsides of your cutouts together. It doesn't take much glue and if you squeeze too much on, the card will get wavy (in a bad way).
Step 4. Right away, before the glue dries, loop the ribbon piece together and stick the two lose ends about 1/4 inch into the top of your glued-together cutouts. This is how you'll hang the ornament. Smoosh the cutouts back together so the glue bonds to the ribbon. You may need to add an extra dab of glue to secure the ribbon. Set aside overnight until completely dry.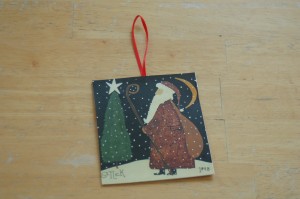 Step 5. Hang and enjoy!