Show your little ones some love by gathering them together for some fun activities – especially if your February 14th involves staying inside on a cold day!
Here are 8 fun Valentine's Day crafts to keep your kids busy.
1. Hair Dye Hearts
This was a fun experiment I decided to try that actually worked – and my daughter loved it! Take some hair paint (the kind that washes out with a good shampoo) and put some in a shallow bowl. Dip a small heart-shaped cookie cutter in the paint, then press to hair. Easy, fun, adorable!
2. Decorate T-shirts
This great idea comes from Momstart. So creative and easy! Our dollar store often carries t-shirts, but you can pick them up cheap from different stores, including Michael's. Then all you need are some doilies (dollar store), fabric paint (Michael's) and a spongey applicator or paintbrush. The kids will be thrilled to wear their own creations.
3. Pink Lemonade Scented Playdough
Penny Wise Mama shows you how to make your own playdough. "Playdough is an amazing sensory experience for kids (and moms too!). It works great as a calming activity and it's wonderful for building fine motor skills in little hands." Choose your scent by adding the Kool-Aid flavor of your choice. Clever, huh?
4. Valentine's Day Slime
This red hot Valetine's Day slime is perfect for preschool, kindergarten, and elementary age kids. This recipe comes from 123 Homeschool for Me. What you need:  water, red cinnamon heart candies, red glitter glue. Kids will have a blast making this and playing with it. And it smells great, too!
5. Conversation Heart Frame
This is the cutest! Materials you'll need: cardboard, paint, glue, candy conversations hearts, photo, tape. Kids of any age will enjoy making this. Or your teen can make this for his or her "sweetheart."
6. Paper Towel Hearts
What an easy way to DIY Valentine's cards. Simply take a paper towel roll and fold the end into a heart shape. Then dip in washable paint. (We used red and glittery.)
7. Paper Towel Wreath
This tasteful wreath is from Vicky Barone who swears it's "super easy." What you need: paper towel rolls, scissors, paint, paint brush, glitter, ribbon and a hot glue gun. You will treasure this beautiful wreath for years to come!
8. Heart Shaped Cake
And all this time, I thought my mother came up with this idea, long ago! There's no need to buy a heart shaped pan if you've got a round one and a square one. Kids will enjoy helping make this clever cake – and eating it! See the Katie Brown Home Workshop blog for details.
Looking for more ideas?
Valentine's Day crafts and projects
Homemade Valentine's Day gifts
Valentine's Day Ideas:  8 DIY gifts!
What are you making for Valentine's Day?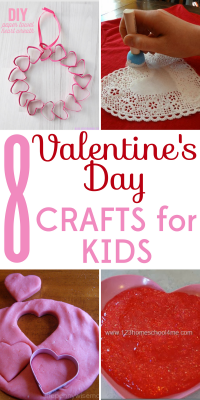 This post contains affiliate links.