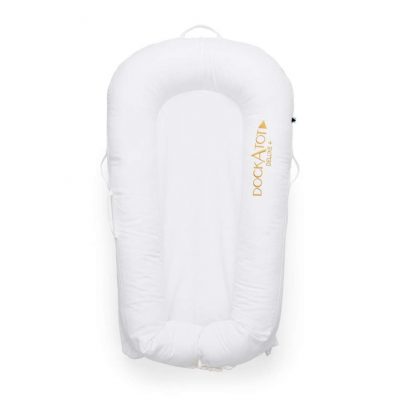 The Deluxe+ Dock is the ultimate docking station for your baby ages 0-8 months old. Multifunctional and multitasking, the Dockatot Deluxe+ offers a comfy spot that lets baby rest, lounge, play, cuddle, do tummy time and get diaper changes. Today only, get the DockATot Deluxe+ Dock (Pristine White) – The All in One Baby Lounger – Perfect for Co Sleeping for only $136.91!
Due to the raised tube design and breathable and hypoallergenic materials, the Deluxe+ Dock also offers parents a safe way to co-sleep with their babies (be sure to review and follow all the Sleep Safety guidelines on our website). Deluxe+ Docks are lightweight and portable, allowing for easy travel. Additional covers are available for purchase to match your mood, room and style.
Cover = 100% cotton, Tube = 100% polyester, Pad = 100% polyester

REINVENTS THE WOMB: DockATot has been designed to offer a snug and soothing environment for babies. Many babies prefer a nurturing, cozy surrounding that mimics the mother's womb.

FACILITATES TUMMY TIME: DockATot is the ideal spot to have tummy time with your little one. When baby is awake and ready to play with you, the rounded sides help to prop up your baby when placed under his/her arms. Tummy time can help babies develop neck strength and motor skills. It is important to closely supervise your baby during tummy time.

PROVIDES A COMFORTABLE MICROCLIMATE: DockATot is made in the EU with OEKO-TEX certified fabrics that do not harbor heat. This ensures that the micro-climate (space directly affecting their surroundings) is the best possible for baby.

TRAVEL FRIENDLY: The DockATot is an ideal travel companion for moms with babies and toddlers, as it maintains familiarity in a new environment. We offer stylish and functional Travel Bags to help keep your dock protected while on the go.

IDEAL FOR CO-SLEEPING/BED SHARING: With rounded sides, the DockATot helps create a barrier between baby and parents to give your child their own cozy space. When used in an adult bed properly, DockATot offers a better way to co-sleep.
This post contains affiliate links.