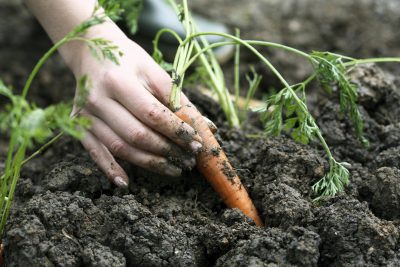 With shorter days and longer nights approaching, it's time to start preparing your garden for fall. Before you begin planting, there are many tasks that need to be completed. Here are some fall gardening tips to get ready for the next growing season and continue to save money through gardening.
Rearrange
Here's one of the toughest jobs you must accomplish, but it must be done. You need to get rid of all the diseased or damaged plants that have stopped producing and look tired in your garden. This is work; some of your spring plants may be monstrously big – think zucchini – and need to be pulled out. Weeds must be removed so they do not eat your plants nutrients. You can leave healthy plants that are still producing, but as soon as they stop producing chop them up and add them to your compost bin.
Prepare the soil
Fall veggies need the same as spring and summer veggies good soil. To prepare add compost and fertilizer to make sure your plants have a chance to thrive. Healthy soil will help you grow robust, pest- and disease-free plants so you don't spend your money buying insecticides. If your plants get swarmed, try cheap and natural methods to keep pests away with everyday items you have at home or in your garden.
Pick your veggies
The most important thing to prepare for fall gardening is deciding on the veggies you will be planting. In a few weeks the season for tomatoes, zucchinis, and other warm weather crops ends, but you can still enjoy fresh veggies from your garden. Here are some cool weather crops that can be grown in the fall:
Broccoli
Collard greens
Spinach
Swiss chard
Kale
Edamame
Brussels sprouts
Cabbage
Lettuce
Onion
Radishes
Cauliflower
Beets
Carrots
Parsnip
Start seedlings
To save money, do not buy plants from a nursery, instead start your plants from seeds and transplant to your garden later on. Now is the time to start your leafy greens from seeds. Keep in mind that root veggies like carrots and beets build their roots in the soil, so it's best not to transplant them or you risk breaking the roots. Depending on the fall climate in your area, you want to make sure to transplant your seedlings before daylight gets shorter. Don't spend a penny on seedling containers when you can start seedlings on the cheap with newspaper and tape.
Let us know how you're preparing for fall gardening.