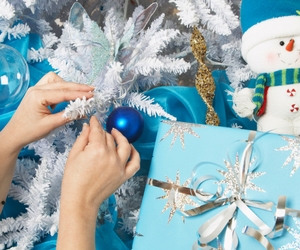 I know what you're thinking! There's LOADS of time between now and Christmas, right? But remember how quickly those weeks went by last year? 2023 will speed by just as fast! Before you get caught up in the spending and celebrating frenzy, take some time to set the stage for a stress-free holiday season. Here are 8 steps you can take now to prevent stress this holiday season!
Anticipate the Season:
Last year, I invited my two older girls (9 years old) to a Holiday Planning Party. The three of us brought notebooks or clipboards, and ordered appetizers at a special restaurant (really, it was just Fatz Café, but fun for us!). We had a little open forum discussion about our ideas and inspirations for Halloween, Thanksgiving, Christmas and New Year's. We brainstormed, made a Christmas bucket list, and talked about our favorite holiday memories. Did this simplify the holidays? Not really, but it did help my big kids take responsibility for making our holidays a success and increased the anticipation and appreciation. Click here for a free Holiday Planner to help you get a jump on the busy season!
Utilize Lists:
This may seem like a HUGE step, but creating lists for all things holiday is a great way to gain a bit of control over what can be an overwhelming season. As I've shared, I love Bullet Journaling because my lists are finally working for me and giving me the flexibility to truly reach goals. A bit of friendly advice: making lists in September can be fun and whimsical, but if you wait until December 22, you will be dreading every moment of the process.
Create Deal Alerts:
What big ticket or rarely discounted items will you be searching for this holiday season? Do yourself a favor and create an account on Slickdeals.net. You can then start the search for "iphone", "bike" or this year's IT toy by receiving alerts right in your email inbox. Here's how to do it!
Plan Holiday Portraits:
Now is a great time to decide if you want a formal, posed holiday photo or just want to choose a favorite casual pic of the family to share. If you make the decision now, you can book the photographer, or order the prints without a deadline to worry about. Click here for 101 Family Picture Tips & Ideas from the Dating Divas that will help you capture the perfect shot of your family!
Update your address book:
Now is the time to re-assess your contacts and make sure all of the info has been updated. Even if you aren't sending Christmas cards, this will help you all year and make any correspondence that much easier: invitations, announcements, birthday cards and gifts become much less of a hassle if you have done the ground work. Check out the Simpler Contacts App for easy info management!
Choose Favorite Photos:
Ideally this is something you would do throughout the year, but let's be honest, many of us let our photos totally pile up until forced to deal them. You might not have time for a total overhaul of your digital content, so make this process simple: Create a Folder for "Highlights of 2016." Try to add a dozen or more photos from each month. For some of us, these can easily be pulled from Instagram or Facebook. You will be able to quickly create a collage or photo calendar, which makes a great gift. Costco has great prices on calendars and you can pick them up in store.
Start Saving:
This is a great time to challenge yourself to a "spending freeze" or savings game to free up some cash for the holiday season. A couple years ago I did a shopping freeze for the whole month of December and found it to be very helpful. I have thought about doing it earlier in the season and September would be a great time to tackle this! Click here for details on a No-Spend Challenge!
Create Space:
I'm convinced more and more that cutting down on clutter reduces stress! I realized that my family just simply could not manage our stuff because there was TOO MUCH of it. Now, before the chaos of the holidays descends, is the perfect time to minimalize. Click here for great tips to de-clutter, de-stress, and prepare to enjoy the holidays more fully!