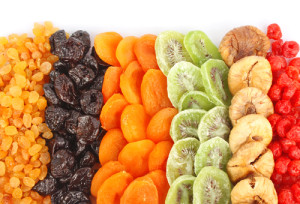 My best friend Garrett's family owns an apple orchard and has a huge garden. Every year they give us tons of apples and vegetables that I wait for all winter long. His family has a food dehydrator that they use to make everything from deer jerky to dried apples and they're always delicious. I love these treats and started to think that I should make them for my family.
Here are seven reasons you need a food dehydrator.
1. Buy Groceries in Bulk – The dehydrator makes it simple to save food so you can buy in bulk without worrying about waste. This makes it easier to take advantage of sales and extend your grocery budget. Use the food dehydrator to preserve excess food instead of trashing it.
2. Make Your Own Jerky – My friend Garrett is very into hunting, but he doesn't hunt for sport. The animals he hunts are always eaten by himself and his family. It was through him that I was first introduced to a food dehydrator. He used the dehydrator to make deer jerky (I was a little afraid to try this but it was delicious!) so that none of the animal would go to waste. Making jerky isn't just for hunters, though. You can make jerky from meat you buy in bulk and try a bunch of different varieties (turkey, fish, beef, and more!) as well as make up your own recipes or flavors. Jerky can be expensive and it's really just meat without water. Why pay more when you can make it at home?
3. Have Garden Vegetables and Herbs Year Round – My grandmother and I have always grown tomatoes and herbs together. I love fresh tomatoes. They just taste so much better than the ones you buy in the store. I eat them as a snack the way people eat apples! A food dehydrator makes it possible to have these great flavors year round. Sundried tomatoes are another of my food love affairs…but they are expensive in the store. I found a recipe to make dehydrated tomatoes at home that looks amazing. You can use the dehydrator for all different types of herbs and vegetables that will taste great and save you money at the market. Score!
4. Stop Buying Candy – You can use a dehydrator to make healthy treats like fruit leather and dried fruits. Dried pineapple is one of my favorite snacks but it's so expensive! Here is an easy fruit leather recipe to help you get started!
5. Homemade Potpourri – Making potpourri seems a little more complicated than some of the other recipes but would be a great gift and a fun craft! Basically, you use a combination of flowers, essential oils, and fruits to create your own special potpourri. I think picking out flowers and fruit would be a fun craft to do with my nephew this spring! Here are some fun dehydrator potpourri recipes that will have your home smelling beautifully.
6. Homemade Dog Treats – The same way that you can make healthy snacks for yourself, you can make treats for your dog. There are tons of recipes to choose from, including vegetarian treat options! Here are 5 healthy dog treat recipes. 

7. Eat Healthier – The food dehydrator makes it easy to make healthy snacks. I know that it I find myself grabbing junk food when that's what I around the house. Having healthy snacks at home will give you healthy options to fill your snack cravings.
While I don't have a food dehydrator, reading about all they can do has made me want one! For this reason, I looked around to see how much they cost. I found out that food dehydrators can cost anywhere from $30 to over $200! Check out this list of the 5 Best Food Dehydrators to decide what works for you. Do you have any other recipes or use for a food dehydrator? Share them in the comments!
What's your favorite use for your food dehydrator?