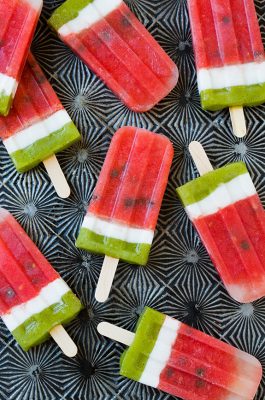 As the weather heats up, what better treat to reach for than a homemade popsicle? Whether you prefer healthy or dessert-sweet, we've got a recipe for you.
Easy DIY popsicles you can make with the kids.
1. Watermelon popsicles. These refreshing treats are the creative idea of the Cooking Classy blog. They are made with fresh watermelon and kiwi, a few chocolate chips and coconut milk for the white portion. Ooh, call us when they're ready!
2. Homemade fudgesicles. Who doesn't love chocolate? These frozen treats are easy to make with a few simple ingredients you probably already have on hand: "All that is needed is cocoa powder, sugar, corn syrup, milk and vanilla. SUPER Simple." Recipe from CincyShopper.com.
3. Gummi bear popsicles. This unbearably cute idea comes from the Wonderful DIY blog. All you need: a popsicle mold, gummi bears and Sprite. Freeze and that's it!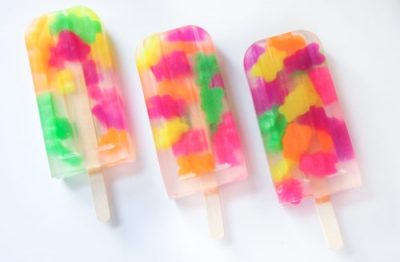 4. Avocado coconut popsicles. Looking for a low-cal sweet treat? Try these healthy popsicles from Skinny Taste. Each pop is 84 calories with 5 g of (good) fat and 0 mg cholesterol. Ingredients: fresh avocado, unsweetened Almond Breeze Almond Coconut milk, raw sugar (or your favorite sweetener) and sweetened shredded coconut flakes. Sounds good enough to eat!
5. Strawberry yogurt popsicles. This recipe requires only 4 ingredients:  strawberries, pineapple chunks, sweetener (Truvia, honey, sugar, etc.) and low-fat vanilla yogurt. The Yummy Healthy Easy blog says of these homemade treats: "These strawberry yogurt popsicles are way healthier than store-bought popsicles and taste every bit as sweet and satisfying. And you're saving some cash, too! Bye bye ice cream man!"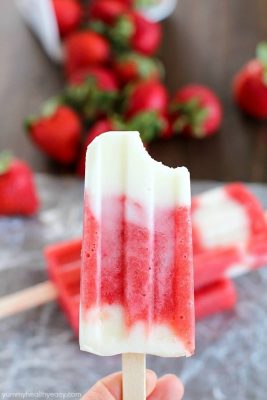 6. Rainbow popsicles. My daughter has always loved rainbows, so I know she'd love this recipe from Cutefetti. They're simple to make – all you need is Sprite (or any clear lemon-lime soda) and Airheads Xtremes Sour Candy Rainbow Berry Strips. "The magic of these pops happen when all the sugary sour goodness come off of the candy and mix right into the soda. Each bite is a sweet and sour surprise. Like the best of movie theater snacks in each nibble."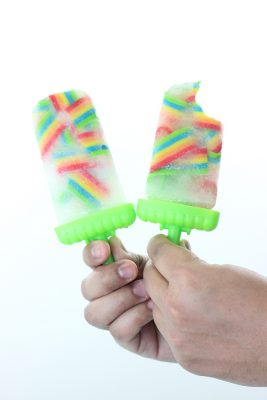 Which is your favorite popsicle recipe?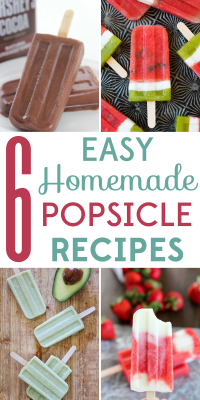 This post contains affiliate links.