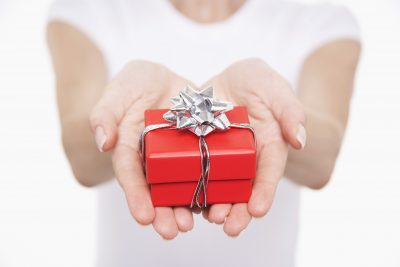 Don't hate me because it's September and we're going to talk about alternatives to Christmas gifts. Think of this as you getting a head start on the inevitable holiday. Yes, I realize it isn't even Halloween, but at least we here at Bargain Babe are offering up some unique Christmas gift ideas to make holiday shopping a bit more exciting this year.
10 Alternatives to Christmas Gifts
1. Volunteer instead: Whether it's serving Christmas dinner at a local homeless shelter, ringing the Salvation Army bell outside Walmart or cleaning up a National Park, spend your time and money giving back to others instead of to them. Visit Volunteer Match to find opportunities based on what you want to do and where.
2. See the world: Have you ever just wanted to disappear during the holidays? Do it! Grab your family and head to the ocean or the city lights for a fun and touristy Christmas. The memories will last much longer than the latest gadget at the bottom of a stocking. One of my favorite Christmases was when my parents took my sister and me to Vegas. It was unlike anything we'd ever done together, and we have some hilarious stories to retell every year.
3. Donate: Spend the money you would have spent on gifts, on others. Choose a charity as a family, pool your money and send a check on your behalf or in memoriam of a loved one. If there are multiple organizations that you care about, split the money between them. A unique way to donate is through World Vision, where you can purchase a cow, chickens, education or clean water for a family in need. Either way, your family can feel good knowing that your giving is making a difference in someone else's life.
4. Homemade gifts: Give a gift from the heart this year with something made by your own two hands. Does your daughter love cooking? Make her a personalized book of your favorite recipes from over the years. Dad travels for work? Record yourself reading him a story or playing an instrument, for on-the-road entertainment. Are you creative? Write a poem or paint a picture and frame it to match the recipients décor. Visit Pinterest or Etsy for great ideas for homemade gifts and crafts. Last year for Valentine's Day, I gave my husband a deck of cards with one thing I loved about him written on each card. Don't wait until February to tell your special one "52 Reasons I Love You."
5. Scavenger hunt: Turn your gift into an all-day event with clues and hidden prizes leading them up the stairs or down the street. Stretch your budget by visiting the Dollar Store or regifting memories from around the house. The important thing is not what you hide, but the smile it brings to the hunters face.
6. Coupons for chores or tasks: We all love it when someone does our dirty work for us, so why not give the joy back? Coupons for "One Free Lawn Mow", "One Day of Babysitting", "Two Weeks of Dish Duty" or "Full TV Remote Privileges for the Night" can go a long way with your favorite people.
7. Home project: We know, we know, you'll get to repainting the bedrooms NEXT month. While you are looking for a Christmas Day family activity, why not grab a few paint brushes work together as a team, Extreme Makeover style? With help, the projects you've been putting off until spring will be done before you know it. Plus, kids will take more pride in their home if they have a hand in the improvements.
8. Gifts just for the kids: The older you get, the less you "really" need, am I right? Forgo giving to one another and focus on the kids –and that doesn't have to mean a ton of toys. Start or add to college funds, contribute to your niece's car insurance or buy your son a session of those drum lessons he's been begging for.
9. Explore your city: It's becoming more popular in the summer months, but why not enjoy a Christmas Staycation? Visit your city's Convention and Visitor's Bureau website and plan a weekend of activities and sights you've never seen right in your hometown. Not only will you save money, but I guarantee the family walks away with a renewed appreciation for all your community has to offer.
10. Get moving: Holiday Marathons are popping up all over the country. What better way to celebrate with your family than improving your health? Sign up to walk a 5k or run a full marathon, throw on a Santa Hat and get in shape as a family!
What is your favorite non-gift related Christmas tradition?