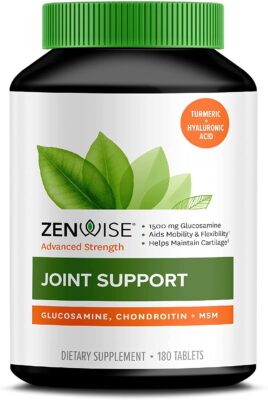 Get ready for a healthy New Year with Today's Deal: click here to save 20% off Zenwise Health Dietary Supplements. Zenwise Health Joint Support contains a blend of 1500mg Glucosamine, 1200mg Chondroitin, and 1000mg MSM to support overall hip and joint health. This advanced formula also features Hyaluronic Acid and Curcumin to promote strength, mobility, and flexibility for the joints to encourage an active and healthy lifestyle for men and women. Get the Joint Support Supplement – Complex with 1500mg Glucosamine, 1200mg Chondroitin, 1000 MG MSM & Hyaluronic Acid for Advanced Relief – Mobility Health Supplement for Pain, Aches, Soreness & Inflammation – 180 tablets for only $21.97!
Extra Strength Joint Care Supplement: Let's face it, stiff joints can be a pain! This advanced supplement supports the health of knees, hips, and other joints while helping to relieve joint stiffness. Designed for men and women who wish to maintain their active and healthy lifestyle.

Move Easily and Comfortably Again: Each daily serving delivers 1500 mg of Glucosamine, 1200 mg of Chondroitin, 1000 mg of MSM plus Boswellia, Turmeric and Hyaluronic Acid to support the health of knees, hips, joints and cartilage.

Glucosamine, Chondroitin and MSM to support joint structure, protect joint tissue, ease stiffness and promote joint mobility and flexibility.

Boswellia, Curcumin and Hyaluronic Acid to help maintain healthy cartilage, promote joint comfort and support a healthy inflammation response.

90-count or 180-countsupply: Zenwise Joint Support is available in either 90-count or 180-count bottles. We suggest three tablets daily.
This post contains affiliate links.