Whether you're out with the girls or that special guy, on a hot summer night there's nothing like a refreshing summer cocktail. There's also nothing like the price – many bars and restaurants charge $10 and up for a cocktail. In fact, it's not uncommon for the mark-up for a fruity cocktail to be as high as 456%. Why get ripped off when you can make a tasty drink at home for a fraction of the price? With all the money you'll be saving, you could even throw your own cocktail party and still come out ahead!
Try our 6 delicious drink recipes and save.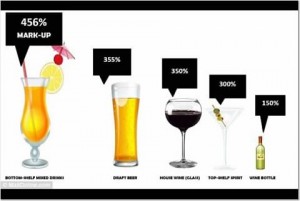 Don't believe your bar drinks are marked-up?  Just take a look at our comparisons.
1. Banana Boat. This drink, from Good Cocktails, is easy to whip up and tastes delicious! It calls for coconut rum, banana liquer and pineapple juice. Depending on the brands of rum and liquer you choose, the price may vary. I opted for mid-range priced brands, and one drink came out to: $1.51.
2. Blueberry Vodka Lemonade. This tart and sweet blueberry vodka lemonade recipe from Lemons for Lulu will refresh you on the hottest days. The recipe, which includes fresh blueberries, fresh mint leaves, sugar, lemonade and blueberry vodka, makes a pitcher of approximately 5 drinks. One 6 oz. glass will cost you approximately $1.67. At that price, you can refill your glass without guilt!
3. Pink Fizzy. The tangy-sweetness of pink lemonade and the carbonation from the lemon-lime soda make this drink a crowd pleaser! Yum! This recipe, from Sutter Home, calls for 1 bottle of Sutter Home White Zinfandel, 2 cans of frozen lemonade, 2 cans of lemon-lime soda (like Sprite) and lemon and lime wedges. The recipe makes 47 oz. A 6 oz. serving is approximately $1.28.  
4. Pineapple and Mango Rum Cocktail. The exotic flavors of mango and pineapple make this a cocktail worth consuming! This recipe, from Martha Stewart, calls for 3 small, ripe mangoes, golden rum and pineapple juice. Mangoes may vary in price, depending on where you live, but each drink winds up to be approximately $1.88 per glass.
5. Strawberry Coconut Daquiri. This recipe from Eating Well, makes a pitcher of daquiris. The coconut rum adds a tropical twist. What you need: fresh or frozen strawberries (price varies depending on where you live, where you shop, whether or not you choose organic, etc.), sugar, lime juice, and flavored rum like Malibu. One drink comes out to approximately $1.92.
6. Blackberry Mint Julep. Adding blackberries to a mint julep adds fruity flavor to this classic warm-weather cocktail. This drink recipe, from Delish, uses fresh blackberries, fresh mint, sugar, and bourbon. I calculated the recipe using Jim Beam, which at my local store is $27.99 for 1L. Total for 1 glass: $2.04.
Looking for some tasty summer drinks without alcohol?
Try these non-alcoholic summer drinks.
What are your favorite summer drink recipes?