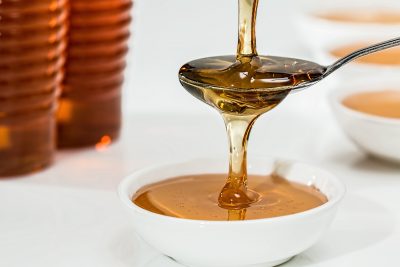 You put honey in your tea, but did you know there are so many other ways it can be useful? Just as there are many different uses for coconut oil and olive oil, honey is one of those items you have lying around the house that can be used in a variety of different ways. But make sure you're using the real thing – raw honey – because many brands available in stores are ultra-processed and may even contain high-fructose corn syrup.
Here are 16 different ways you can use honey.
Relieve hangovers. Skip the Advil – a few tablespoons of honey will help speed up your body's metabolism of alcohol.
Heal wounds, cuts, scrapes & burns. Apply honey to the affected area – honey works as a natural antiseptic because of its antimicrobial properties.
Soothe sore throats. Honey in tea is an excellent choice, but you can also combine honey with the juice of one lemon and drink.
Moisturize dry skin. Honey is a great moisturizer. Rub onto your dry, patchy skin and let it sit for about 30 minutes. Be sure to wash it off, because it's sticky!
Reduce the appearance of scars. Believe it or not, honey has a bleaching affect, so it can help lighten a scar over time.
Use as a hair conditioner. Add 1 tsp to your shampoo. For deeper conditioning, or combine with a little olive oil, stick a shower cap on your head, let sit for 20 minutes, then shampoo.
Use in the bath. Relax by soaking in a bath of 2 tbsps honey per every cup of hot water. The yummy smell will also help relax you!
Remove acne. Honey has anti-bacterial properties, which are helpful in treating acne. Place a small drop of honey on the affected area, then rinse off after 10-15 minutes.
Use a facial. Combine 2 tsp of milk with 2 tbsp of honey. Spread the mixture on your face, keep it on for 10 minutes, then wash it off. Ultra-moisturizing!
Boost your energy without sugar. Mix in a tbsp of honey into a cup of tea or a fruit shake for an added energy boost.
Treat a cough. Studies show that honey is as effective in treating a child's cough as the common cough syrup ingredient dextromethorphan. Give your child 2 teaspoons of honey around 30 minutes before bedtime.
Make your own lip scrub.  Mix 1 tsp raw honey with 1 tbsp brown sugar, then add a few drops of lemon juice. Apply to your lips, then exfoliate after 5 mins.
Preserve fruit. Preserve your fruits in a honey sauce instead of using sugar. Check out this recipe for Honey Peach Preserves at The Free Range Life.
Use as a nail conditioner. Mix 1 tsp of honey with 1 tsp of apple cider vinegar. Apply to nails and cuticles. Rinse off after 10 minutes.
Soothe razor bumps. Apply raw honey after shaving and rinse off after 10-15 minutes. Ah, relief!
Fade dark circles under your eyes. Mix equal parts raw honey with almond oil, leave on dark circles for 15 minutes, then rinse. Do twice weekly.
How do you use honey?