It's approaching the first day of Spring which means that it's almost time for backyard barbecues and outdoor fun! If your backyard leaves a bit to be desired you may be dreading this time of year. Don't worry! These 10 ideas will spruce up your yard for a low cost AND give you a backyard to brag about.
10 Budget-Friendly Backyard Ideas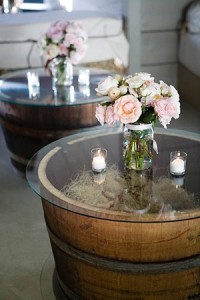 1. DIY Outdoor Tables – Adding outdoor furniture is a nice way to make a statement in your backyard BUT it can be very expensive. These DIY outdoor tables are only $38.99 and look much more expensive. All you need are whiskey barrels for (around $30 at home Depot) and 20″ glass table toppers that cost about $8.99. What's fun about these tables is that they can be customized for your yard. Fill with hay, glass beads, lights, or flowers to make these tables unique to your yard!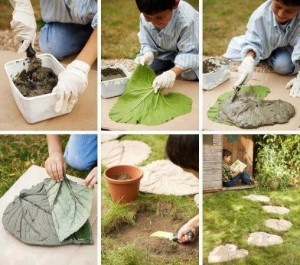 2. Stepping Stones – Creating an outdoor path can quickly change the whole look of a backyard. My favorite (and one of the easiest) backyard paths I found was created with DIY leave stepping stones. This involves using concrete and a good bit of time BUT the end result is beautiful and well worth the effort! Go here for the full tutorial.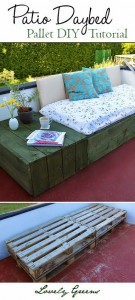 3. Outdoor Day Bed – I don't know about you but I can easily picture myself lounging on a day bed with a glass of sangria and a good book. Actually, it sounds like a dream come true! Create an outdoor day bed using palettes and a repurposed mattress. For the full tutorial head here.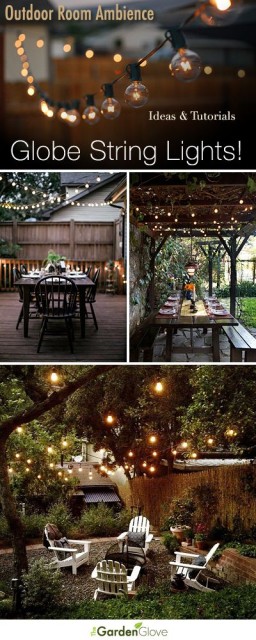 4.Globe String Lights – You'd be surprised how adding a few lights can transform a backyard AND according to this tutorial by Bright July the cost is just $55. This will include some tools and piping but the end results are amazing. Just take a look at the picture on the left in case you don't believe me! For the DIY tutorial head here!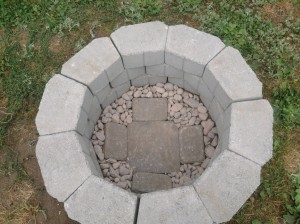 5. DIY Fire Pit – Growing up in Rhode Island some of my favorite memories are summer nights standing around my best friend's fire pit making s'mores. A fire pit is a great way to transform a backyard into a social area. The cheapest option I found was Simply Sweet Cake's DIY fire pit (includes picture tutorial!) with a cost of only $38! Wow! Depending on how much you are willing to spend you can create a variety of beautiful fire pits. Check out 7 fun DIY fire pit options here.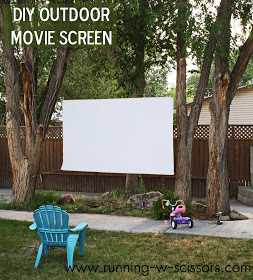 6. Outdoor Movie Screen – This may seem like a crazy (and super expensive idea) but you can make your own outdoor movie screen for around $70 according to this tutorial by Running With Scissors.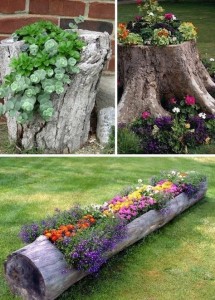 7. Utilize Tree Stumps – Usually tree stumps are anything but pretty but this is an easy fix especially if they are hollow. Just add some soil, plant some flowers, and voila! You now have a beautiful statement piece. You can also top tree stumps with cushions to create seating around a fire pit or table. Nice!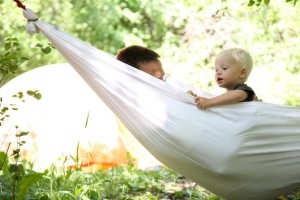 8. Make Your Own Hammock – Ever since I visited Costa Rica in college I've loved hammocks. The only problem? They tend to be a little pricey starting at around $100 each. The solution? Make your own! Outside Mom has tutorials for both those with sewing machines and those without. As long as you have two trees this hammock is sure to add some interest to your yard…never mind a great place to relax!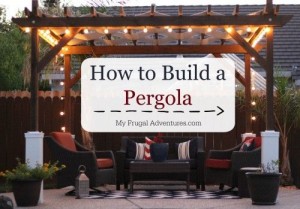 9. Build a Pergola – If you're looking to add a little privacy or shade to your backyard build a pergola! This will involve some carpentry but it took only one weekend for the couple of My Frugal Adventures to complete this project. Add some of the globe lights mentioned above and you'll completely change your yard in one weekend. Wow! Find the full tutorial here.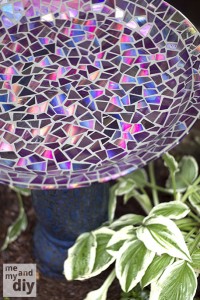 10.DIY Mosaic Bird Bath – Who doesn't love to see birds outside your window?! Not only are bird baths beautiful but they provide a safe place for birds to access fresh drinking water. Repurpose an old bird bath of your own, or one found at a garage sale, with old DVDs or CDs to create a mosaic bird bath. Find a full picture tutorial here.
What's your favorite way to spruce up your backyard?