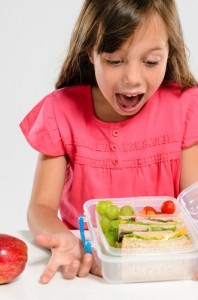 Processed food lunches are not only bad for the health of your kids, they are also bad for the health of your budget. There are lots of healthy school lunches that you can make for your kids.
Lunchables (a product that contributes largely to Kraft Foods' $48 Billion annual revenue) are really not good food or good for your pocket book. If you want to make your own lunchables you can do so for at least 40% less.
You will save a bunch of money and contribute to the health of your children. There are great bento boxes and other sectioned lunch boxes available in many stores which make packed lunches more fun.
Should you want to try something different in your kids lunches, here is a list of 50 healthy and frugal lunch ideas to get your creative juices flowing.
Sliced applies and peanut butter. Slice the apple and then hold it together with a rubber band.
Homemade beef jerky. By making your own beef jerky, you can use the quality of meat you want and use healthier seasonings at half the price. I've linked to a great how-to article with excellent pictures.
Frozen grapes – Buy organic grapes when they are in season and freeze them. A frozen grape is like a mini Popsicle.
Hummos and pita bread
Homemade yogurt pushups. Instead of buying overpriced prepacked individual yogurt sticks, make your own, using a silicone ice pop maker
Bite sized fresh fruit with cute little food forks. Kids will love eating the fruit with these animal shaped food picks.
Almond butter and honey whole wheat sandwich cut into bit sized shapes.
Edaname (soybeans) – Kids love popping the beans out of the shells. I suggest that you get organic soybeans as conventional soybeans have a high probability of being GMO.
Confetti quinoa. Quinoa and mixed tiny veggies makes for a colorful and fun lunch treat. Tastes good warm or cold.
Pretzels and cream cheese
Hard boiled egg – Some kids like to peel the eggs at lunch (adds an activity to the meal) others would prefer that you peel them ahead of time and preslice.
Broccoli spears and baby tomatoes
Mini 7-layer bean dip in a container with chips
Shredded chicken
Sliced kiwi
Bread and butter with sliced cucumber. Package separately so the bread doesn't get soggy.
Tapioca pudding
Sliced bananas and peanut butter
Spiral noodles with broccoli and shredded cheese
Berries – any kind
Egg salad in a whole wheat tortilla wrap
Seasoned and roasted seaweed.
Tortellini with mushrooms and cheese
Cut up cheese and crackers
Chicken leg
Meat and cheese roll-ups
Nuts – all kinds
Vegetable sushi (no raw fish) – How to make vegetable sushi for beginners. Easy and fun.
Baby oranges. Easy to peel. Fun to eat. Full of vitamins. You can't go wrong.
Olives – make sure you get rid of the juice
Pickles – also get rid of juice – wrap separately
Mini quiche – Easy to make, mini quiche are gobbled up by kids. Alter the recipe to include the kind of veggies and cheese your kids like.
Beet chips – So much better than fried potato chips. Yes, they take a bit of time to make, but oh, so good.
Breaded baked zucchini
Sugar snap peas
Apple sauce
Watermelon – Another one that needs to be packaged separately and water tight so it doesn't get too messy… but such a treat.
Hot dog slices – If you are going for the health aspect, I suggest you get a kosher or high end hot dog.
Salami slices – Same advice as #39.
Carrot slices and ranch dressing
Graham crackers and cream cheese
Yogurt and granola – keep separate until going to eat so the granola doesn't get soggy
Homemade fruit rollup – Homemade rollups fruit, sugar or honey (little or none really needed), lemon and water. Compare this list to the ingredients on commercial fruit rollups.
Celery slices with peanut butter and raisins.
Radishes – Not for every kid, but I knew a 3-year-old girl who LOVED the radishes that her mom packed in her lunch box.
Flat bread sandwiches
Soup in a thermos
Homemade bread and anything
Check out Megan's 10 Tips for Healthy Eating on a Budget.
What to give your child to drink to go along with these healthy lunches? Kids that don't have plenty of physical education periods each day should not have sugary drinks with their lunches. It makes them frigidity and then tired. Not a great recipe for making an attentive student. Water in a reusable bottle is a good alternative to one-use plastic bottles.
Those are my 50 ideas. What have I missed?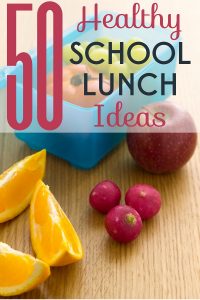 This post contains affiliate links.