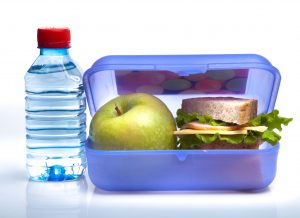 Do you cheer when you see back to school sales or cringe that the summer is nearly over? Either way, the reality is that school will be back in session soon! As you are shopping for school supplies, have you taken a glance at the myriad lunch options available? More and more parents are packing lunches for their kids to save money, to ensure meals are allergen-free, or to offer additional options to basic cafeteria choices.  Whether you will be packing dinner leftovers, making last-minute sandwiches or building mouth-watering bento creations, there are some great options on Amazon to make your job even easier! Check these out:
Sandwich Bags & Wraps:
If you are simply looking for a ziplock upgrade, try some of these options. Better for the environment, BPA-free, durable and easy to pack!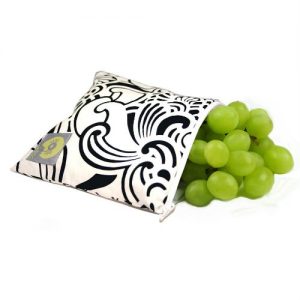 Itzy Ritzy Snack & Sandwich Bags: We have a stash of these, and the quality is excellent. They have withstood many washings and the adorable patterns make them difficult to lose or accidentally discard.
PlanetWise Reusable Baggies: Top-rack dishwasher safe and see-through makes these extra appealing.
WrapNMat: This is a simple sandwich wrap that cleans up well and doubles as a placemat or plate.
Check out all the other reusable sandwich and snack bags on Amazon!
Divided Lunch Containers:
Many bento dishes fall into this category and the price point can vary vastly from semi-disposable plastic options to the pricey stainless steel versions. Check for features like dishwasher safe construction, leak-proof design, and stay-cool insulation. Here are a few you could consider:
EasyLunchboxes: I have heard so many good things about these stackable, reusable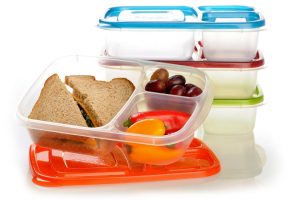 divided dishes that I am very tempted to try them. The price is practically irresistible and imagine how much space you could save by stacking enough dishes for the whole family! 4 divided dishes for $13.95!
Planetbox: These are a pricey investment at but the reviews are amazing. If you are looking for a long-lasting and stainless steel option, check out these large divided boxes with carrying cases. $79.95 each!
Sistema Lunch Cube: We have used these for years and have been very pleased. The sections allow for portions large enough to satisfy an adult appetite, with a clever, space-conscious design. $4.99 each!
Yumbox: These colorful plastic containers seem to be a nice compromise offering a leak-proof seal, divided sections, and sturdy exterior. Geared toward kids under age 8, these retail for $29.99 each!
Click here for more divided lunchbox options on Amazon!
Leakproof Bottles & Cups:
Beverage cups for lunches are tricky business! Insulated cups can be pretty heavy and so many of the water bottles aren't leakproof which can make a huge mess of the whole lunch! We did find a few options that should be a good fit for kid lunch take-alongs.
Drink-in-the-box: These cups are designed to be a leakproof version of traditional juice boxes. The rectangular shape makes them perfect for packing in lunchboxes or bags and the straw clicks into the cap to make them leakproof. Clear and colorful designs appeal to kids and the price isn't too much for the parents to take at $11.99 a bottle.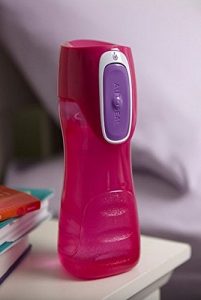 Contigo Trekker: My kids think these are a super cool design and they are truly leakproof. (The button might make it a little tricky for the littlest fingers, but my four year old and nine year olds have no issue). A three pack is $18.49.
Rubbermaid Litterless Juice Boxes: These are an old favorite at a great price and can even be frozen so that they perform double duty as an ice pack. At only $16.38 for six bottles these are great for simplifying life for busy parents.
Here are a lot more options for drink bottles at Amazon!
Fun Lunch extras
To add a little extra fun to back to school lunches, check out Lunchbox LoveNotes, LunchBox Napkins by GingerPie, and Egg Molds by Kotobuki.
What are you favorite products for packing lunches?