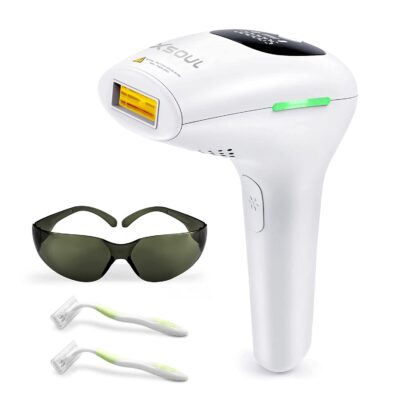 IPL is designed to help break the cycle of hair growth. Light energy is transferred through the skin's surface and is absorbed by melanin present in the hair shaft. The absorbed light energy is converted to heat energy (below the surface of the skin), which disables the hair follicle. Treated hairs naturally fall out over the course of a few days to 1-2 weeks. Click here for the XSOUL At-Home IPL Hair Removal for Women and Men Permanent Hair Removal 500,000 Flashes Painless Hair Remover on Armpits Back Legs Arms Face Bikini Line, Corded, only $74.79.
Permanent IPL Hair Removal: The XSOUL IPL Hair Removal Device uses advanced IPL technology to break the cycle of hair regrowth for permanent hair reduction for flawlessly smooth and hairless skin. Designed to bring the professionalism of the beauty salon to the consumer level, you can now permanently reduce your body hair from the comfort and privacy of your own home. NOTE: The XSOUL IPL hair removal is a plug-in device – not wireless.

500,000 Flashes for Years of Use: 500,000 Flashes capacity offers years of use, saving you thousands of dollars on laser hair removal appointments. A perfect gift choice for mother's day.

5 Power Levels & Ergonomic Design: The XSOUL IPL permanent hair removal device for women/men offers 5 Power Levels – simply press the On/Off button to adjust to the Power Level that best suits your skin (start from Power Level 1 and work your way up as needed). The ergonomic handle design makes the IPL hair remover comfortable to maneuver around the curves of your body.

Full Body Use & Auto/Manual Modes: The IPL hair remover features Auto Mode (continuous flash) for bikini lines, upper lip, chin, face, and armpits, and Manual Mode (single flash) for the back, chest, stomach, arms, and legs. NOT suitable for eyebrows.

Premium Customer Support: We go above and beyond – your XSOUL IPL permanent hair remover comes with a full worry-free 36-month warranty and 100-day money back. What You Get: Includes 1x XSOUL IPL Hair Removal Device, 2x razors, 1x protective eyewear, 1x instruction manual, and 1x hair and skin color card. Follow the instructions in the included manual to remove body hair faster.
This post contains affiliate links.