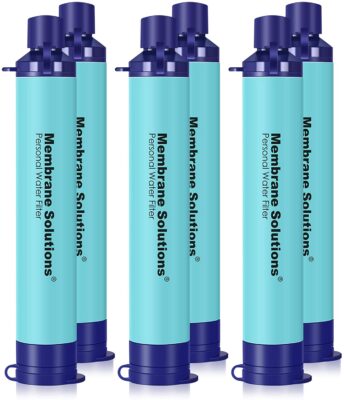 Save on Personal Water Filter Straws from Membrane Solutions today! These Personal Water Filter Straws from Membrane Solutions are perfect for Emergency grab-bags, for day-trips, or for camping and they provide 13000 gallons of fresh water!
✅Survival Gear for Outdoor Water Needs – If you want to obtain healthy drinking water simply and quickly, you can use this survival gear. The mini and lightweight filtering system are ideal for recreation, hiking, camping. It's also your good companion for scouting, domestic and international travel, emergency preparedness.

✅Portable & Long Life-Span – This straw filtration at only 7.1" long and 1″ in diameter fits any bottle, cup, or glass. It weighs just 2 ounces and fits in the palm of your hand, pocket, gym bag, backpacks, survival packs and purses. Both ends of Upgrade straw filter are removable for cleaning to extend Longer Lifespan ensures it provides up to 5,000 liters (1,320 gallons) of drinking water. You can take it anywhere you want conveniently.

✅5-Stage Filtration – Our upgrade 5-Stage Filtration system including coarse filter screen, double layer pp cotton fiber, coconut shell activated carbon and hollow fiber ultrafiltration membranes. which can remove 99.99999% of harmful substances (pollution, odor, chlorine and organic chemicals, etc.) and improve the taste. Ensuring the safest water in the worst environments.

✅Smaller Pore Size – We all know that the smaller pore size, the higher the filtering accuracy, Our pore size is 0.1 microns which can filter out 99.99999% of the tiny material. Compared to the 0.2-micron filter straw on the market, Membrane Solutions 0.1microns pore size filter straw maintains the optimum flow rate (500ml/min) while maintaining the filtration accuracy.

✅High-Quality Materials & Versatile Filtering Modes – Build out of strong food-grade plastics, manufactured with BPA-Free ABS, ensures water safety and delivers a better drinking experience. Compared to the big filter straw on the market, Membrane Solutions water filters have a smaller frame, more convenient to use and more filtered modes, ideal for connecting with soft water pouch or disposable water bottles to squeeze, even as a replacement gravity filter to get pure water for family & group.
This post contains affiliate links.