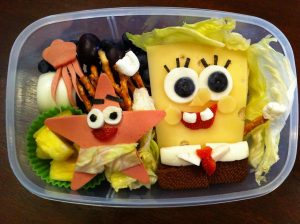 I have a confession to make. I love looking at all the creative ideas that people post on Pinterest… but it's rare that I actually attempt to copy these recipes or crafts – even when I fully intend to. I can look at these elaborate bento box inspired lunch ideas and know, without a doubt, that I will never make them. But that's okay. I can still admire them and those who have the time and talent to put them together.
Lunch box ideas that will amaze you.
So you've got your Bentology lunch box ready, now what? Here are some ideas on how to fill it.
1. SpongeBob and Patrick Star. Who lives in a pineapple under the sea… and in your kid's lunch box? SpongeBob! Boys and girls will love to snack on their friends from Bikini Bottom. Idea from lunchboxawesome.com. SpongeBob is crafted from cheese, egg whites, blueberries, strawberries, and appropriately enough, seaweed (for the eyelashes). Patrick and accompanying jellyfish are made from bologna, lettuce, strawberries and sliced string cheese.
2. Elsa and Olaf. Got a 'Frozen' fan in your house? Lunchbox Dad does, and he came up with this creation. He says on his blog, "I'm not even gonna pretend that this didn't take longer than normal. Honestly, it's one lunch that would be more difficult to reproduce as well. This was worth it, however, because my daughter has been asking for a FROZEN lunch for awhile." What you need: multi-grain bread slices, peanut butter, yellow and blue yummy dough, fat-free cream cheese for the eyes, food coloring (black, blue, red), string cheese cut into jagged chunks, apple, peeled and cut into chunks, blue sprinkles, chopped baby carrots, small piece of tortilla. Be sure to check out Lunch Box Dad's other masterful creations.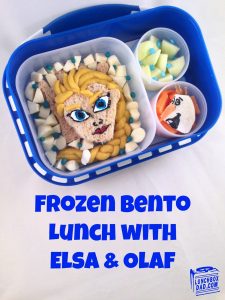 3. From Cars to Hello Kitty and More. If your kids are bored with their school lunches and you're up to the challenge, check out Funky Lunch for ideas. They have an entire gallery of inspired ideas – there's even a grand piano design with the top propped up!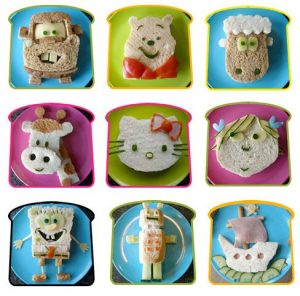 4. Minions. This lunch is anything but despicable! What you need: a banana cut in half with the ends cut off, blue and black markers, 2 pieces of Nori (dried seaweed) cut in the shape of goggles as shown, 3 small circles of white cheese for eyes, 3 small pieces of raisins for eyes, 1 piece of lettuce for the background, 1 slice of whole wheat bread cut in four squares, 1 handful of trail mix, 1 serving of grilled chicken cut into strips, 1 slice of cheese cut into squares, cheese cut into "ME 2" as shown, tool shaped stickers for decoration, if desired. For complete instructions, see Lunch Box Dad's website.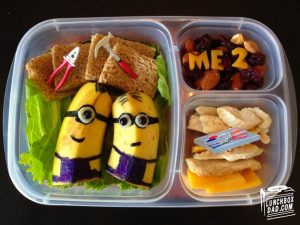 5. Pokemon. How cute are these Babybel Pokeballs? This one is actually fairly easy to make, according to Cute Food For Kids. Check out their website for complete instructions and you'll be good to 'Go.'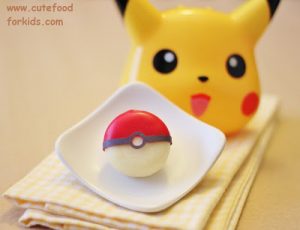 6. Angry Birds. This idea, from Here Comes the Sun Blog, is sure to be a hit with Bird Lovers. Ingredients: Babybel cheese for the birds and Kraft Singles for the beaks, raisins for eyebrows and candy eyes (found in craft stores in the cake decorating section), a turkey sandwich cut it into the blocks that the pigs sit on, kiwi and grapes for the piggie.
 Are you making creative lunches for your kids?