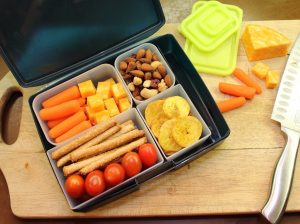 Remember when school lunches were packed in a paper bag? These days many schools enforce, or at least encourage, a no-waste lunch policy, meaning no disposable plastic wrap or bags. I can't argue with the benefits to the environment – and reusable containers do end up being cheaper in the long run – but there are so many choices for lunch boxes now that it can be a little overwhelming. 
I have tried nearly all the lunch box options out there, and while they all have their pros and cons, I always end up coming back to the same system: Bentology (formerly Laptop Lunches). It was one of the first bento style lunch boxes and for me it remains one of the best. 
The reasons I love Bentology:
Flexible. With five different containers (plus the outer container) you are not limited to one configuration. Also, you can buy extra containers to give you even more options.
Leak proof. Three of the five containers come with lids and are truly leak proof (just be sure to "burp" them to get a good seal). Many lunch boxes claim to be leak proof, but all that really means is that you can include something like yogurt or applesauce. But a true liquid, like juice from a fruit or salad dressing, will leak with a vengeance. This is a big deal for us because my daughter likes to eat salads for lunch, and I'm pretty sure I'm legally required to encourage my kids to eat salad.
Dishwasher safe. To be honest, I usually hand wash them because I run my dishwasher overnight and I pack lunches before then. But I have done it and they come out unscathed.
Lightweight. I love the idea of using stainless steel lunchware, but it can be very heavy. I can see that being a real downside for a lot of kids, especially those who walk to school. (Are there still kids who walk to school?)
Durable. We have one Bentology set that is seven years old, well loved (i.e. abused), and still going strong.
Large Capacity. Bentology holds quite a bit of food. My kids, both of whom are good eaters, have never complained that they felt deprived after lunch. At the same time, the different containers are nice portion sizes and encourage variety.
Terrific customer service. I ordered an insulated lunch bag from Bentology and the zipper tended to get stuck in one spot. I emailed them and they immediately sent out a replacement, without requiring that I send back the defective product.
Made in the USA – Since Bentology boxes are plastic I do feel better knowing that they're made in the USA. Plus, they contain no phthalates, BPA, PVC, or lead.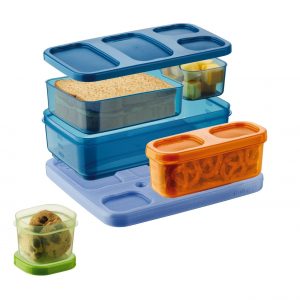 You can buy Bentology on Amazon or directly from Bentology.com. They're offering free shipping on orders of $25+ right now.
If you are packing lunch for smaller appetites, I like this Rubbermaid LunchBlox set. This system is especially handy if you need to keep some snacks separate from the lunch (required for kindergartners at our school). Also, it's a great deal considering that you get a nice big ice pack with it. Note that these are not leak proof.
How are you packing your kids' lunches this year? Tell me about it in the comments!
This post contains affiliate links.