I vividly remember a jumpsuit being one of my favorite outfits as a child. My particular '90s style jumpsuit had a bright floral print on a black background with a loose, flowy cut and super-soft fabric. I specifically recall that I loved it because I was obsessed with gymnastics at the time and the forgiving style allowed for endless summer cartwheels on the grass in our backyard. Somehow that outfit seemed to symbolize comfort, freedom and creativity in my mind! As we move toward summer, I'm craving those same feelings and I know so many women feel the same way. Jumpsuits also offer ease of wear, can be dressed up or down and are perfect for travel (should we have the opportunity to do so). They can easily be layered with a kimono, cardigan, or jean jacket to change the look making them even more versatile. I have even heard some women favor this simple one-piece style because they can easily slip them off to decontaminate upon entering their home! So smart! On top of all this, wearing a jumpsuit basically feels like wearing PJs!
So will 2020 become the summer of the jumpsuit? It might for me!
Amazon

There are endless jumpsuit options on Amazon, so I took some time to weed through the options for you! Luckily, many have been thoroughly reviewed with photos which I found super helpful. Here are the options that I have added to my cart:
ANRABESS Women's Summer Tank Jumpsuit
This style is more fitted, which allows you to push up the cuffs for a cropped look. It also comes it a ton of color options and is available in a shorts version, all for under $30. Looking for something similar? Try Reoria Summer Tank Jumpsuit as another option.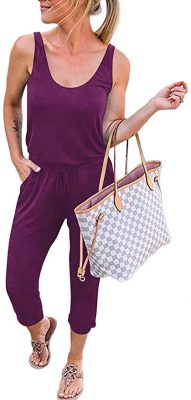 Aedvoouer Women's Baggy Plus Size Overalls Cotton Linen Jumpsuit
This is definitely not your typical jumpsuit, but it still hits all the high points (comfortable, flattering, lightweight, versatile), in a traditional overall style. This take me back to my college days when I lived in overalls! Reviews are great and you can layer to your heart's content.



BELONGSCI Sleeveless Jumpsuit
This one definitely has a dressier vibe and I love the angled hem. With nineteen different color and pattern choices, I think this would be a great option for anything from brunch to a summer wedding.


Target
Stars Above Cozy Lounge Jumper
This jumpsuit has a cozy, soft style which I think many of us can relate to in the current circumstances! The comfort of sweatpants with the cut and fit of a one piece? Yes please!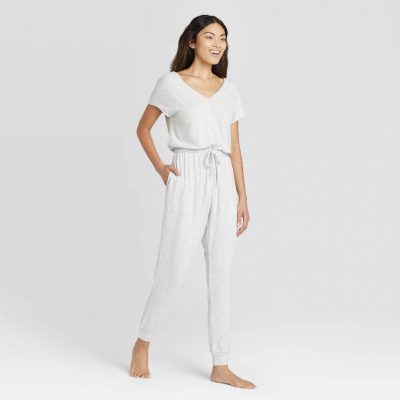 Women's Sleeveless V-Neck Button-Front Jumpsuit – Xhilaration™
Bring some 70's drama to your wardrobe this summer with this dramatic V-neck Button front Jumpsuit by Xhilaration. The loose, wide-leg style will keep you cool while the ties offer a whimsical detail that will take you back to your childhood.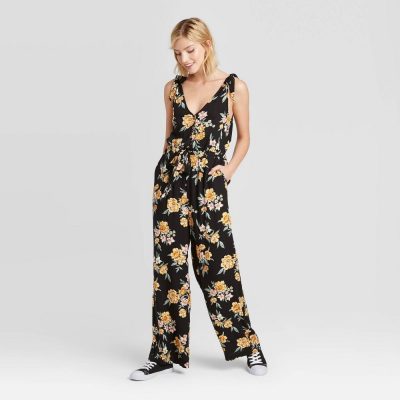 Women's Sleeveless Cropped Jumpsuit – A New Day™
This style is a little more classic and I think it could easily be dressed up for date night, or down for shopping! The tie belt is adjustable and removable giving you even more styling options.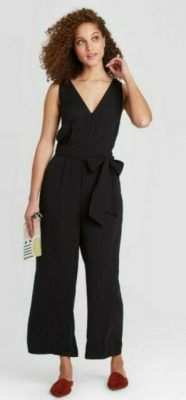 Old Navy
Square-Neck Cami Jumpsuit for Women
This is the only jumpsuit I've purchased this year and I have to say, I love it! It's a perfect fit for me and I'm happy to say that it washed and dried beautiful with no significant changes in size (Old Navy tends to shrink, in my experience) and no need for ironing (I consider "iron" a four letter word). I feel like the polkadot print makes it look a little bit more dressed up and the cut is appropriate for most casual occasions. It's absolutely comfortable and cool. I'll be wearing it a lot this summer and fall!
Waist-Defined Soft-Woven V-Neck Jumpsuit for Women
This one also looks so lovely with the soft smocked waist and looser cut. I hope the red print comes back in stock, but I also love this blue floral.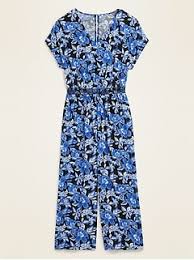 So what do you think? Are jumpsuits a summer fashion "do" or a "don't" for you? Have you tried one yet?
This post contains affiliate links.