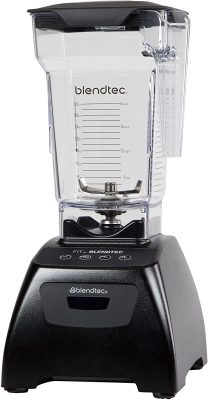 The Fit by Blendtec was designed for simplicity. Equipped with a thirty-second button, a +10 button and two pulse functions, it's no wonder that it's a Blendtec favorite – especially for the price! It's easy to operate and powerful – our quality gives you the confidence you need for years to come. Today only, get the Blendtec Classic Fit Blender with FourSide Jar (75 oz), 30-sec Pre-programmed cycle, High-Low Pulse, Professional-Grade Power, Black for only $209.99, a 30% savings!
Blendtec blenders are built to the highest professional standards – same as you find in restaurants and smoothie shops. Our blades are 80% thicker and 10x stronger than other blender blades.

2 year comprehensive warranty. An American company, family-owned and driven to build the best quality products – without compromise. Engineered and assembled in the USA.

Includes BPA-free four-sided jar for smaller quantities, grinding grains, and heating soups and drinks through friction heat. The four-sided jar is a 75 oz Volume jar with 32 oz blending capacity (wet or dry).

Professional-quality: for years, blending Professionals have used Blendtec machines in the best coffee shops, juice bars and eateries around the world. The Blendtec fit delivers the same great results in your own home.

Features: 30-second cycle, +10 seconds, high pulse and low pulse. This exclusive blend cycle technology creates the perfect blends with the touch of a button.

Includes the Blendtec four-sided jar with vented gripper lid. The four-sided jar effectively harnesses the power of your Blendtec blender. Blunt safety blade is thicker and stronger than other blender blades. The jar is made from impact-resistant, BPA-free polyester the four-sided jar is compatible with all Blendtec consumer blenders.

Powerful 1560 Watt Motor
This post contains affiliate links.