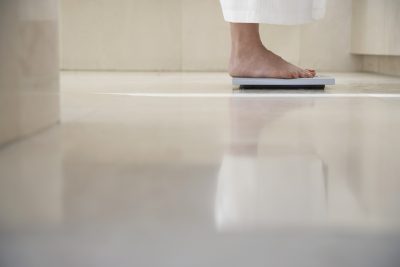 Ok, this is the post I have been planning to write for awhile, and yet it's a post I have been frankly dreading from the beginning. But it's always been my goal to be authentic as a blogger. I want to share my experiences as they might help someone else who happens to be in the same situation. And I know this is a situation many women face, so here is my story.
Historically, I have never been truly overweight, but at the same time the numbers on the scale have always fluctuated up and down. My closet has always had a wide range of sizes. I have a history of a few health issues that probably affect my weight, along with changing hormones that I don't even really try to understand. In the last ten years I have had two pregnancies and three children. I don't even know how much I gained during the pregnancies because at the time I felt there wasn't much value in looking at the scale.
After my twins were born, I was diagnosed with anxiety and it has taken me years to begin to understand how all-encompassing that diagnosis truly is for me. It's not something I can escape or be cured of, it's a reality I deal with on a daily basis. My life is exceptionally blessed, but the truth is that my view of that reality is colored by the filter of anxiety. And that affects everything I do.
With my doctor's prompting, I began medication and after some back and forth experimentation, we found a dose that really seemed to help my symptoms. But the problem was, I was gaining weight; a significant amount of weight, for my relatively small frame. At first, I hoped the weight gain was just an initial adjustment, but I began to realize it wasn't leveling out. The needle on the scale kept creeping up, even as I consumed fewer calories and cut out some of my less-desirable dietary habits. I had to buy a new wardrobe. Over the course of about 18 months, I have gone up six pants sizes. I realized I was no longer in control of this journey.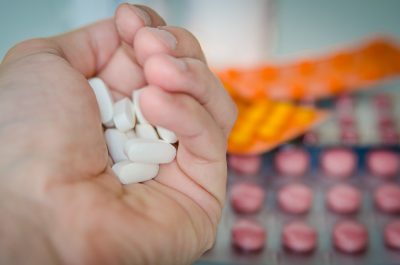 I visited my doctor and switched meds in hopes to put the brakes on this runaway train, but so far no luck. I began reading about side effects from SSRIs and the information was fairly sobering. Most people gain weight from these medications. Those who don't seem to be the exception to the rule. There is one particular med in the category that tends to cause weight loss, but it can also cause an INCREASE in anxiety. Although anxiety and depression are often lumped together, there isn't a one-size-fits-all solution. And medication is far from an easy answer to a complex issue.
So at this point, my anxiety is in a very good place but my love handles are pushing beyond what I feel is reasonable. I want to scream at the scale while I continue to turn down desserts and late-night snacking. I cut out soda, and cut way back on carbs, but I still had to buy a new pair of jeans this week. I don't feel like myself physically, even though my mental state is so much better than before. Sounds pretty negative, huh? Please keep reading.
Is there a silver lining to this cloud? I think so, and that's the reason I am writing this post in the first place. I have come to believe that every step of my mental health journey has actually given me a gift I never anticipated. I believe I now have a much better understanding of the human experience than I ever would have had before. Each person's reality is so incredibly nuanced and unique to them, and more than ever I truly believe that each person should be treated with the utmost respect, grace and understanding. To put it simply, I have learned to be less judgmental and more empathetic. I feel that I've been given a gift of compassion. In fact, I've become a sort of ambassador for anxiety in my social circle. It's really important for me to share frequently about my experience. Whether others are suffering or not, I think a better education can help us all. And that chance to reach out to others, the opportunity to give them some encouragement or hope, is something I am incredibly grateful for.
So that's my story; I may be a little chubbier, but I'm hopefully a little wiser and kinder.
If you or someone you love is suffering from depression or anxiety, please do not suffer alone. It's incredibly important to seek the help of a licensed counselor or medical professional for these very real issues. There are many things you can do to help your condition, but seeking an accurate diagnosis is the first step!