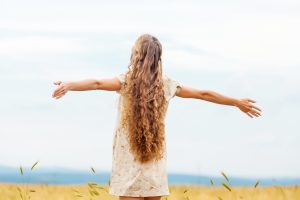 No one can deny that it's a stressful world we live in. There are a million reasons to worry and that daily pressure can affect our health, relationships, and quality of life. On top of all our responsibilities, we are so busy that we have less and less time to fight stress as we should (you know, through exercise and a healthy diet).
Nearly ten years ago, my general practitioner along with my cardiologist diagnosed me with Generalized Anxiety Disorder (GAD). As a healthy twenty-four year old, I couldn't believe that stress was causing me actual quantifiable cardiac symptoms. In fact, my body's insufficient serotonin levels and subsequent poor handling of mental stress were causing me all kinds of clinical symptoms, from digestive issues to vision difficulties, and it turns out I'd been battling those issues for years.
Since my diagnosis I have used many different treatments for my anxiety and have found a combination of lifestyle habits and medication can make a big difference for me. I continue to seek new ways of improving my mental health and work hard to keep up the habits I have started, like exercising and getting enough sleep.
There is, however, one life change that I will never give up and it keeps me sane on a daily basis. It may surprise you, but just give me a chance to explain how this secret helps me. Don't write it off, or laugh and click away. Before you leave, imagine how it could actually work for you. Here it is:
I arrive early for everything. I decided a long time ago that the unknown variables that could cause me to miss an appointment made me anxious, and I hated that feeling. I hated how I felt out of control when I was behind schedule, so I decided to shift my entire schedule. Even now that I am a stay at home mom of three kids, I am still able to arrive early for everything. All I do is anticipate when we should leave for an event and then shift my schedule up so that we are leaving thirty minutes earlier than necessary (or sometimes earlier for a formal or out of town event).
How did I become an early-bird? I shifted my entire schedule and started the habits to support that lifestyle like prepping lunches the night before, choosing outfits ahead of time, straightening up the house before I go to bed, and double-checking the school bags. One of the benefits is that when you leave thirty minutes early, you are less likely to forget things or make a mistake because you don't have the stress of running late on your mind to distract you!
Arriving early means that sometimes there is waiting time. Sometimes the kids and I are sitting in the car for a few extra minutes. What do I do with that extra time? First, I turn on an audio book for the children, then I write in my Bullet Journal, I pick up the trash in the car, I style my hair, I call my mom, I go through the receipts in my purse, I send some texts out, I cull through my photos. Whatever I do, I am calm and cheerful because we are early and being early is awesome.
How would I spend those same minutes if I was on a typical last-minute schedule? Looking for my car keys, telling my kids to put their shoes on (again), washing the breakfast dishes, changing my skirt (again), lingering over my coffee, checking Facebook, trying to remember that one thing I know I am forgetting to take along with me. Whatever I am doing, I would be stressed and grumpy because I know that any small thing to go wrong will push us off schedule and make us late. And being late is stressful!
Would always being early take some of the stress off your shoulders or do you think I'm just a control freak gone too far? Let me know in the comments!