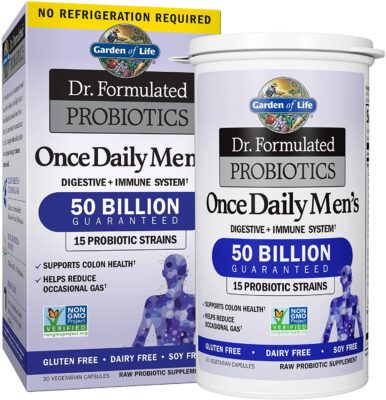 Save Up to 54% off on Garden of Life probiotics and blends. Dr. Formulated Probiotics Once Daily Men's is a unique "just one capsule a day" shelf stable probiotic for men. Once Daily Men's is a specifically designed vegetarian supplement with a high probiotic count to support a healthy microbiome and men's specific health needs. Dr. Perlmutter created this unique formula with a high count of beneficial probiotics made from diverse strains, including Lactobacilli and Bifidobacteria, that are resistant to stomach acid and bile, exclusively for men's colon support, occasional gas and constipation relief and immune system health. David Perlmutter, M.D., is an expert in the human microbiome, a board-certified neurologist, Fellow of the American College of Nutrition, America's brain-health expert and 1st New York Times best-selling author. Get the Garden of Life Dr. Formulated Probiotics for Men, Once Daily Men's Probiotics, 50 Billion CFU Guaranteed, 15 Strains, Shelf Stable, Gluten Dairy & Soy Free One a Day, Prebiotic Fiber, 30 Capsules $20.90. 
DIGESTION SUPPORT: This once daily probiotic supplement contains Lactobaccilus acidophilus and Bifidobacteria for digestive health and constipation relief

PROBIOTICS FOR MEN: Specially formulated probiotic for men's specific health needs and colon support

IMMUNE SUPPORT: This dietary supplement has 50 billion CFU and 15 probiotic strains for immune system health

SHELF STABLE PROBIOTICS: This 50 billion probiotic comes in 30 one daily capsules; no refrigeration required

HYPOALLERGENIC PROBIOTIC: Our probiotics supplement is dairy free, gluten free, soy free, and vegetarian
This post contains affiliate links.