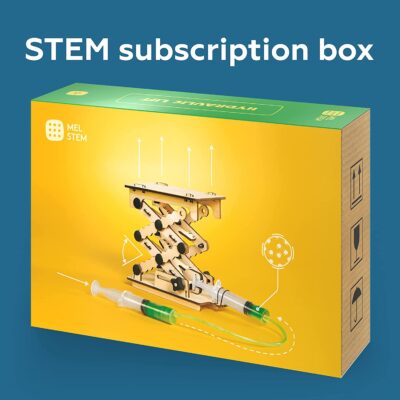 Each month, subscribers receive one STEM project on a dedicated topic. Get technology on your side with our free supplementary MEL Kids app. Experiment with augmented reality that makes complex concepts fun and simple. Read the adventurous story and use the easy and fun step-by-step instructions to build your project. Free live lessons with a professional science teacher to explain the science behind the experiments and allow your children to ask questions! Click here to save up to 50% off your first box with MEL Sciences.
EVERYTHING YOU NEED: You'll receive a new kids science kit by the 20th of each month. These kids' educational toys are dedicated to assembling an exciting science project and contain all the necessary equipment. No need for additional shopping!

HANDS-ON SCIENCE: Your first monthly subscription box covers hydraulics and forces. Assemble a model of a real jack lift, explore how a scissor mechanism works, build a simple hydraulic system, and learn the science behind it all!

NEW TOPIC EVERY MONTH: Assemble a model of a real jack lift, racecar, and 3D goggles, build a projector, and conduct many more exciting experiments with over 20+ different DIY kits for kids ages 5 and up in the MEL STEM subscription.

AR SCIENCE LESSONS: Enjoy lifetime access to 16 augmented reality lessons in the free MEL Kids app, plus video lessons to study the science behind each experiment on a deeper level. Try it now – just download the MEL Kids app and see for yourself!

AWARD-WINNING: MEL Science was named BETT Innovator of the year and received the EdTech Cool Tool award as the best VR/AR tool of 2020, plus positive reviews from well-known media outlets such as Forbes, The Guardian, Toys as Tools, and more!
This post contains affiliate links.