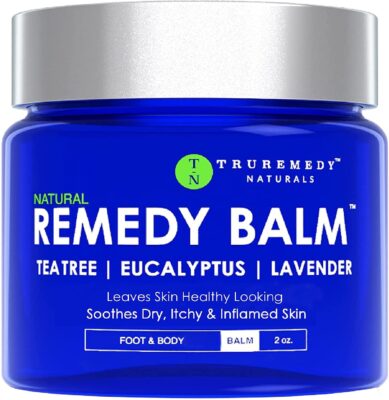 Save up to 36% off Truremedy products today! All skin types are different & some people are allergic/have sensitivity to tea tree, eucalyptus oil so for best results, please follow these instructions. For first use – Test on a small area of your skin. If you have an allergic reaction/sensitivity, Discontinue use. Apply balm to problem area on your body. Repeat daily if necessary. This Remedy Tea Tree Oil Balm – Ointment for Athletes Foot, Jock Itch, Ringworm, Eczema, Nail Issues, Rash, Skin Irritation – Prevents Dry, Itchy Skin – Foot & Body Cream with Lavender & Eucalyptus – 2 Oz is only $14.99! 
Fight Skin Infections and Eczema With Remedy Balm: Premium organic grade Tea Tree, Eucalyptus and Lavender essential oils form a powerful foot and body balm. Our soothing formula defends against skin infections, nail infections, athletes foot, jock itch, eczema and ringworm.

Soothing Relief From Itchy, Cracked, Inflamed, Sore, and Irritated Skin:. Our Tea Tree Cream Helps relieve jock itch, itchy feet, scaling, itching spots, redness, razor burn, rash, saddle sores, split cracked cuticles, severely chapped lips, psoriasis, dry hands and dry feet. Our non-greasy formula Skin Ointment promotes healthy & soft skin to your hands, elbows, feet, heels, fingernails, toenails, scalp and other irritated parts of the body.

100% Organic and Natural Tea Tree, Eucalyptus, and Lavender Oil: Our Premium Therapeutic Tea Tree Cream Contains Skin Moisturizing Omega 3,6,7,9, and Vitamin E & C which helps the skin repair itself and reduce redness and itching. Our Remedy Healing Balm has no Gluten, and has NO Preservatives, Petroleum, Silicone, Synthetic Fragrance or Dyes commonly found in other gels, lotions, creams and ointments. Our body balm for women and men is proudly made in the USA.

Ideal For All Skin Types: Truremedy Naturals Premium Body Balm for women and men works great for multiple skin types and conditions. Our Remedy balm works as a great athletes foot and foot repair cream for women and men to alleviate smelly feet, toe and foot odor and athletes foot issues. Our Remedy cream also works as a ringworm and jock itch cream soothing irritated skin. A little goes a long way.

TruRemedy Naturals 100% Guarantee: All Our Products – Remedy Balm, Remedy Soap Bars, Remedy Soap Body Wash, Remedy Hemorrhoid Balm, Remedy Bruise Cream, Natural Activated Charcoal Soap Bar, Natural Mint Foot & Shoe Deodorizer, and Tea Tree Oil Foot Soak with Epsom Salt are made of Broad Spectrum Essential Oils and Plant Extracts including Tea Tree Oil and Eucalyptus Oils that help promote relief for skin discomfort. If You're not 100% SATISFIED, We'll Make it Right or Your Money Back.
This post contains affiliate links.