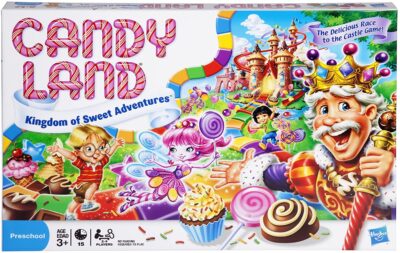 Click here to save up to 45% off Hasbro Preschool Toys and Games! If you loved playing the Candy Land board game when you were a child, you can share the experience with your loved ones and start down the "magical" road to sweet surprises! This adorable version of the classic Candy Land game features gingerbread men as movers, colored cards, and fun illustrations that kids love, with different destinations like Cookie Commons and the chunky Chocolate Mountain. Players choose their cards, move their pawns, and let their imaginations soar as they make their way to the castle to win! For 2 to 4 players. Get Hasbro Gaming Candy Land Kingdom Of Sweet Adventures Board Game For Kids Ages 3 & Up (Amazon Exclusive) for only $8.99!
CLASSIC BEGINNER GAME: Do you remember playing Candy Land when you were a kid. Introduce new generations to this sweet kids' board game

RACE TO THE CASTLE: Players encounter all kinds of "delicious" surprises as they move their cute gingerbread man pawn around the path in a race to the castle

NO READING REQUIRED TO PLAY: For kids ages 3 and up, Candy Land can be a great game for kids who haven't learned how to read yet

GREAT GAME FOR LITTLE ONES: The Candy Land board game features colored cards, sweet destinations, and fun illustrations that kids love

Sweet version of the classic boardgame features a race to the castle

You encounter all kinds of delicious surprises

Includes gameboard, 4 pawns, card deck and instructions
This post contains affiliate links.