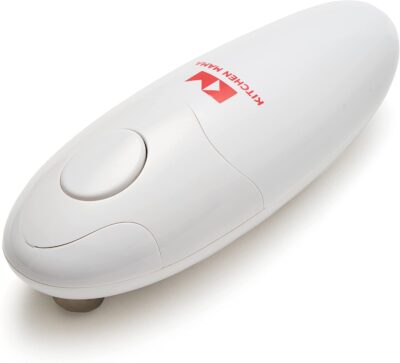 Designed to relieve unnecessary strain and provide convenience during meal preparation, the Kitchen Mama electric can opener makes opening tins as easy as 1, 2, 3. Click here to snag Kitchen Mama Electric Can Opener: Open Your Cans with A Simple Push of Button – No Sharp Edge, Food-Safe and Battery Operated Handheld Can Opener(White), only $22.50. 
【The last electric can opener you'll need】The Kitchen Mama automatic can opener is the best hands-free can opening solution for you! 4 AA batteries make it work like a charm! **Batteries not included**

【Easy operation】Two taps to open any cans with our electric can opener. Push the button to turn it on. It cuts cans 360° along the lid. Push the button again to stop. So hassle-free!

【Safety design】The blade automatically cuts along the side of can. It makes sure no food gets touch with the blade, nothing spills out of the can and no sharp edges leaved. This can opener can ease all your worries!

【User-friendly, ergonomic design】The automatic can opener is designed for easy-use without strain; extremely useful for elderly suffering from arthritis and people with gripping issues.

【Enjoy the best cooking experience】Your hands deserve to be treated like royalty! No effort. No injury. Save your energy. Save time. YES YOU CAN.
This post contains affiliate links.