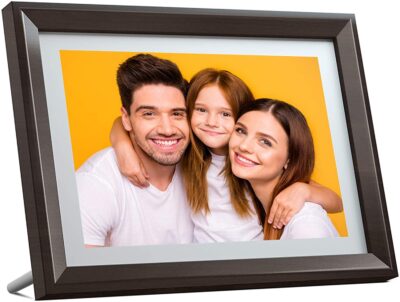 Click here to save up to 40% off Dragon Touch Digital Picture Frames and Video Players. This 10-inch HD IPS display with 1280*800 resolution stays clear in any light, that enables perfect display with families at any angle. The touch screen design allows you to set up the frame and view the photos conveniently. Built-in 16GB memory empowers a huge capability of storage, it is estimated to store over 40,000 photos of 300KB/pc in the frame, extended SD card and USB drive provide you more options for file storage and management (note: please remove all your external devices when you reset the photo frame). This frame is Wi-Fi connected, it enables free, instant and safe photos & videos sharing through cloud server without any limit. Click here for the Dragon Touch Digital Picture Frame WiFi 10 inch IPS Touch Screen HD Display, 16GB Storage, Auto-Rotate, Share Photos via App, Email, Cloud – Classic 10 for only $103.99. 
STAY TOGETHER WITH FAMILIY: This Wi-Fi cloud photo frame can quickly update your life moments with your loved ones wherever you are. It helps to stay close to your family members, it is a perfect gift for the elder to feel connected with the young generation.

INSTANT WIRELESS SHARING: Other than traditional digital photo frame, Classic 10 can instantly receive photos and videos via Wi-Fi network (NOTE: Only works with 2.4 GHz). You, your families and friends can share the moments to the frame with multi convenient methods, such as phone App, sending email, or turning the frame to be a local ftp server.

WONDERFUL PICTURE DISPLAY: A high-quality 10.1" touch screen display with 1280*800 resolution and 16: 10 aspect ratio recalls your precious memories. Customized sleep mode and auto-rotate setting support your better viewing experience, you can place this frame in either portrait or landscape mode, or even mount it on the wall.

EASY SETUP & USE: User-friendly interface design makes it easy-to-use for all ages. Only a few steps to complete the setup and intuitive touch screen makes the usage much easier than ever.

OVER 40,000 PHOTOS STORED: This frame offers you a huge storage capacity with built-in 16GB memory (around 40,000 photos of 300KB/pc). It also supports the SD card and USB drive connectivity to enable you to read the files and export the received photos and videos for better album management (note: please remove all your external devices when you reset the photo frame)
This post contains affiliate links.