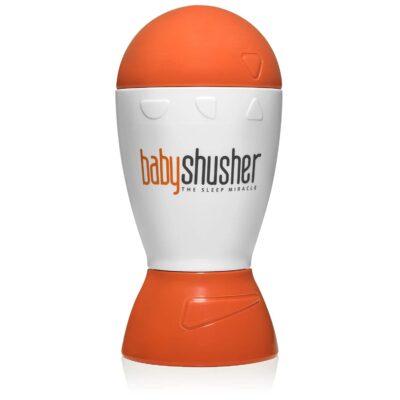 Click here to score the Baby Shusher the Sleep Miracle For only $27.99! My babies were so fussy and didn't sleep well so I would have tried this in a skinny minute! Baby Shusher stops crying by using a parenting technique made popular by Dr. Harvey Karp in his Happiest Baby on the Block book. The Baby Shusher incorporates the fourth 'S' presented in Dr. Karp's book – shushing.
Using a real human voice, lull your baby to sleep with a calming shush — freeing up your precious time

15 to 30-minute timers assure long shushing sessions can get even the most resistant sleepers to sleep.Care & Cleaning: Spot or Wipe Clean

Adjustable volume control helps your baby get to sleep without keeping everyone else awake!

Portable, easy-to-use design, and removable wrist strap gives you the option to carry your baby while putting them to sleep, and comes with 2 AA batteries so you can put your sleep aid to work as soon as you open the package

Made from easy-to-clean, durable, BPA-free material

SHUSHER FOR BABIES: Made from easy-to-clean, durable, BPA-Free material

AWARD WINNER: OHbaby! 2018 Gold Award Winner and Voted by parents as BabyList's 2019 Best Product Award — Makes the ideal baby shower gift!

BABY GIFTS: Also available as part of a collection — see the Baby Shusher Collection listing for more details (B07H2B2XP8)
This post contains affiliate links.