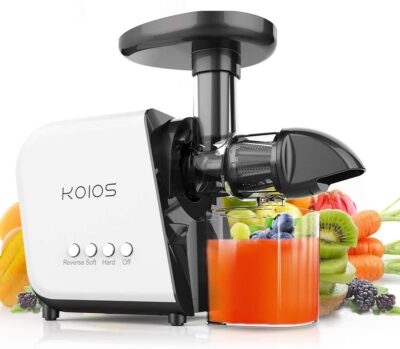 Ready to make good on those health resolutions? Today's deal is savings of up to 39% off KOIOS Electric Juicers! Choose from four different models starting at $67.99. KOIOS slow juicer creates high-quality fruit or vegetable juices based on a method that minimizes oxygen and heat exposure, which effectively preserves the nutrients, colors, and aromas of the ingredients. This KOIOS Juicer, slow Juicer Extractor with reverse function, cold press Juicer Machines with quiet Motor, high nutrient fruit and vegetable Juice is only $84.99. 
Using a low speed of 80 RPMs results in minimal heat buildup.

7-level spiral system – Makes the freshest, highest quality juices possible.

A masticating juicer keeps the minerals, enzymes, vitamins or trace minerals from being destroyed.

Simple and easy to assemble and clean,included cleaning brushes and shovel to make cleaning easier.

INDUSTRY-LEADING LIFETIME SUPPORT – covering parts and performance.
This post contains affiliate links.