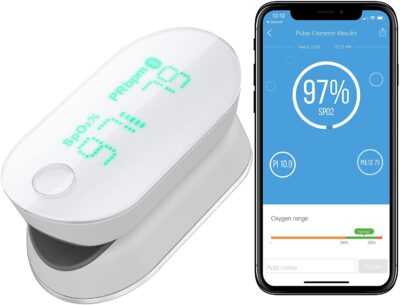 0 The iHealth Air Wireless Pulse Oximeter is a non-invasive device intended for spot-checking of functional oxygen saturation of arterial hemoglobin (SpO2) and pulse rate. The wireless pulse oximeter is intended to measure blood oxygen saturation and pulse rate of adults above 16 years old in home and hospital environments (including clinical use in internist / surgery ,anesthesia, intensive care , etc.). The oximeter that includes both Plethysmograph and Perfusion Index (PI) in smartphone by the iHealth Myvitals App. Easy to see how your activity affects your oxygen level and pulse pre and post workout! This iHealth Air Wireless Fingertip Pulse Oximeter with Plethysmograph and Perfusion Index on the App, Measures Blood Oxygen Saturation, Perfusion Index, Pulse Rate is only $39.99. 
Accurate and Reliable – Trusted smart blood pulse oximeter for many telemedicine programs in the U.S. Accurately detect your SpO2 ( blood oxygen saturation levels) , pulse rate and pulse strength in seconds and display results conveniently on a XL digit LED display and even in your smartphone.

99% SpO2 Value- iHealth Air Bluetooth pulse oximeter that can read and display up to 99% for SpO2.

Smart App & More Details – With the help fo the free iHealth Myvitals App, you can simultaneously track those results in the app and see the real time plethysmograph (The SpO2 waveform) and Perfusion index. All your results will be stored in the app and free secured iHealth cloud. Powerful digital logbook in the app and no more hand writing.

Sport & Health Enthusiasts- Suitable for mountain climbers, skiers, bikers, aviators or anyone interested in measuring their SpO2 and pulse rate while on the move.You should only use the pulse oximeter before or after your exercise when you remain stationary.

Built-in Li-On Battery save lots of hassle for extra cost.Packaged with accessories: A high quality lanyard for easy to go. Micro-USB for simply charging the oximeter. Comes with 12 months WARRANTY and California based support.
This post contains affiliate links.