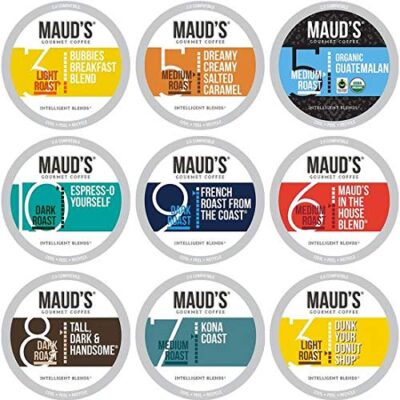 Maud's Coffee & Tea offers a wide array of single serve coffee options including Single Origin Organic Coffee to help you travel the world in the comfort of your home, Flavored Coffee that's sure to bring out your wild side, the widest selection of Decaf Coffee that doesn't taste like it, and the largest assortment of coffee jam-packed and developed into the best variety pack coffee pods in the world. If you're a dark roast, medium roast, light roast, or multiple cups a day half caff kind of person, Maud's Coffee has you covered. Taste the possibilities, Imagine the satisfaction! Life Is Better With Family & Friends. Click here for Maud's 9 Flavor Original Coffee Variety Pack (Original 9 Blends), 80ct. Solar Energy Produced Recyclable Single Serve Coffee Pods Variety Pack – 100% Arabica Coffee California Roasted, KCup Compatible, only $23.92 today. 
Pack Profile – Enjoy a coffee assortment of 9 blends from our Original Classic Gourmet Coffee Collection. This special coffee variety pack contains a delicious mix of our most popular blends, specialty roasts, organic blends, and our most popular flavored coffee Salted Caramel. Enjoy one great cup at a time!

100% Arabica Original Variety Pack Coffee – We use only high quality 100% Arabica coffee including organic and fair trade beans from premier growing regions around the world.

California Roasted & 100% Solar Energy Produced – On their way to your cup, our flavorful beans also get a California tan, roasted to perfection in our own Solar Energy Powered San Diego facility, where we can monitor the quality and character of each batch. Our goal is to be carbon neutral by 2024.

Single Servings – Designed for use with nearly all single serve coffee makers and Keurig KCup compatible brewers, including 2.0 machines. Maud's is not affiliated with Green Mountain Coffee Roasters Inc. or Keurig Inc.

100% Recyclable Variety Coffee Pods – Our coffee pods variety packs are made from recyclable #5 plastic materials and feature easy peel tabs to ensure recyclability across the USA.
This post contains affiliate links.