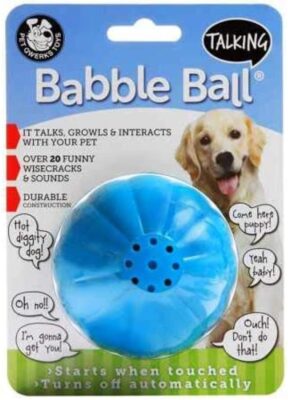 Save Up to 36% off on Toys, Kennels, Pooper Scoopers from Petmate today! Where Pets Always Come First: Pet Qwerks started with interactive dog toys and we've now grown to include plush toys, rubber chew toys and an exceptional line of dog chews made in the USA. Get this. A variety of wisecracks keeps your dogs occupied and entertained for hours on end. Also helps occupy dogs with separation anxiety. Get this Pet Qwerks Interactive Dog Toy for only $6.80!
Interactive Dog Toy: The Talking Babble Ball is motion activated and talks, growls, and interacts with your pet; Great for all dogs and ideal for pets that are blind or have poor vision; Large size for dogs over 25 pounds

Keep Them Busy: As your pet breathes on it or walks past it, the banter ensues, demanding play time by enticing your dog; Each ball makes more than 20 different sounds, including wisecracks, sayings, and many more

Healthy Chew Outlet: The Babble Ball helps dogs satisfy their natural instinct to chew and helps reduce anxiety and prevents boredom by encouraging them to actively play; when your dog is done playing, it will turn itself off

Strong And Durable: Made with high impact ABS construction, the Babble Ball can stand up to aggressive chewers, from your tiny teacup to your goliath Great Dane; A long lasting toy to keep your dog active

Just For Pets: Petmate makes a variety of pet products for dogs, cats, birds, and other furry friends; Check out our brands such as Aspen Pet, Arm & Hammer, Booda, Chuckit, and more
This post contains affiliate links.