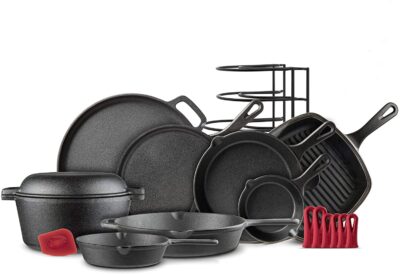 Today only, save up to 32% off on Cuisinel Skillet and Pan Organizers. This bundle is the epitome of versatility and simplicity when it comes to cookware. Make it a part of your family tradition. Long-lasting and durable cast iron provides years and years of quality cooking that leaves our cookware virtually indestructible. Click here to snag this Cast Iron Cookware 11-Pc Set – 6″ + 8″ + 10″ + 12″ Skillet + Grill Pan&Lid + Griddle + Pizza Pan + Dutch Oven & Lid + Panrack + Silicone Handle Covers + Scraper/Cleaner – Indoor/Outdoor – Pre-seasoned for $143.98!
COMPLETE SET: 6″ + 8″ + 10″ + 12″ Skillets + Grill Pan & Lid + Griddle + Pizza Pan + Dutch Oven + Panrack: If you're looking for the complete experience in cast iron wizardry, look no further: You are looking at the most comprehensive cast iron set ever compiled. This collection has everything you need – in one complete set.

PRECISION HEAT DISTRIBUTION – These skillets have a smooth finish to help provide even heat distribution for improved cooking and frying, stoves or induction cooktops, even on grills and campfires.

TRUE COOKING VERSATILITY – The Cuisinel cast iron skillet pans can be used for frying, baking, grilling, broiling, braising, and sautéing meats, vegetables and more! The tempered glass lids will retain heat, prevent splashing and preserve steam and moisture in your sumptuous dishes.

SUPERIOR CRAFTSMANSHIP – Each piece of cast iron cookware is crafted with seasoned cast iron that can outlast years of regular cooking and washing for long-term reliability.

INCLUDES SILICONE HOT HANDLE HOLDERS + PAN SCRAPER + PAN RACK ORGANIZER – This Classic Cast Iron Set comes complete with non-slip, heat-resistant handle covers to keep your hand safe while cooking or serving food. PAN SCRAPER makes cleaning the nonstick surface a breeze! PANRACK keeps your cookware – and kitchen – organized and neat!
This post contains affiliate links.