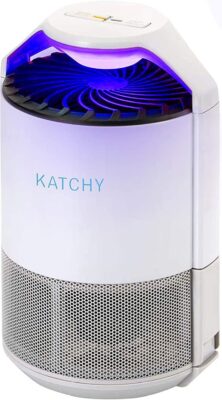 This is just in time, since bug season is LONG in my neck of the woods! Today only, save 30% off KATCHY Indoor Insect and Flying Bug Traps! Triple trapping power: works best for catching gnats, fruit flies & mosquitoes. The UV light Lures them above the fan that sucks them in & the super sticky glue boards make sure they don't escape. Be warned that the trap is not as effective for house flies – especially the bigger ones!
Our stylish fruit fly and mosquito trap exterminates nuisances by luring in and zapping even the tiniest of gnats

Wave goodbye to ugly traps & say hello to a subtle indoor insect killer that instantly embellishes your kitchen or office

Activate the machine around insect-ridden fruits and let it lure in the bothersome pests with its powerful violet light

Our Katchy system uses a black light, downward facing fan and a fixative glue trap to attract fruit flies; Choose between standard or low speed setting

After you turn the Katchy mosquito trap off, the trapped gnats will be confined to the glue board and won't be able to escape, leaving your house gnat-free. EPA Est. Numb.:93372-CHN-1.
This post contains affiliate links.