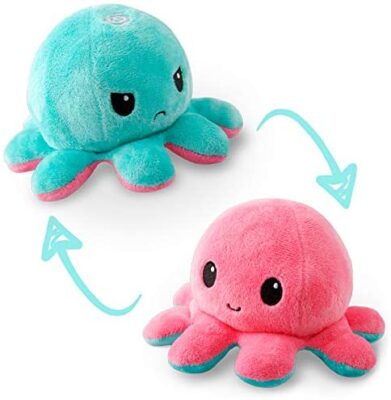 TeeTurtle is the creator of the original Reversible Octopus Plushie, as seen on TikTok! These snuggly stuffed animals are an original, patented design! These plushies are reversible, with a happy side and an angry side. You'll feel like you have two plushies in one! Click here to save up to 30% off TeeTurtle Reversible Plushies and Games.
This award-winning, #1 best-selling plushie has taken TikTok by storm! Your favorite creators have it, and now you can too!

"The reversible mood octopus is pretty much a 2021 Beanie Baby" – The Today Show

Show your mood without saying a word! Whether you're having a great day or everything is terrible, the Octopus Plushie can show your friends and family how you're feeling. Simply flip the plushie to its happy face or its angry face.

Over 24,000 5 star reviews! Kids and adults alike will love the supersoft fabric and portable size of the plushies. Not to mention, they flip INSIDE OUT, thanks to TeeTurtle's patented Reversible Plushie design.

Collect them all! TeeTurtle makes reversible unicorns, narwhals, cats, dogs, pandas, turtles, and more, in tons of different colors!
This post contains affiliate links.