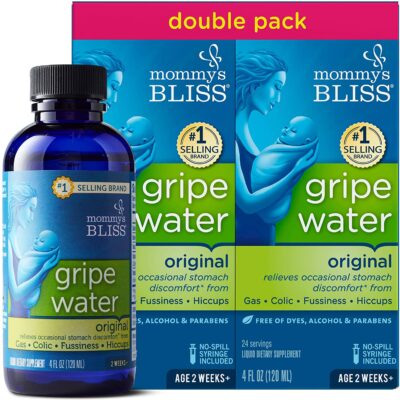 Stock up for the season when you click to save up to 30% on vitamin and supplement favorites. Choose from all the seasonal wellness must haves like Vitamin D, Elderberry, Garlic and much more! For new parents, Mommy's Bliss Original Gripe Water, Gas and Colic Relief, Gentle and Safe, Made for Infants, 2 Weeks+, 8 Fl Oz (2 Bottles) for only $12.73 is an amazing deal!
Contains: 2 – 4 fl oz bottles of Mommy's Bliss Original Gripe Water for Infants 2 weeks+

Get Relief: Bestselling herbal remedy for infant gas and colic relief to ease tummy trouble and general fussiness, making this a baby essential so baby and parents can get back to bliss

Gentle and Safe: Our original gripe water is made with organic fennel and ginger to help soothe baby discomfort caused by gas, hiccups, or colic symptoms

Quality Ingredients: Only made with the best– 100% vegan ingredients and completely free from artifical colors and flavors, sucrose, gluten, dairy, yeast, dill, soy, petroleum based by-products, parabens, alcohol, and free of the top eight allergens

NSF Certified: Independently tested and certified to meet standards for quality, safety, and label claims, moms everywhere trust Mommy's Bliss as a safe and gentle solution for their little ones
This post contains affiliate links.