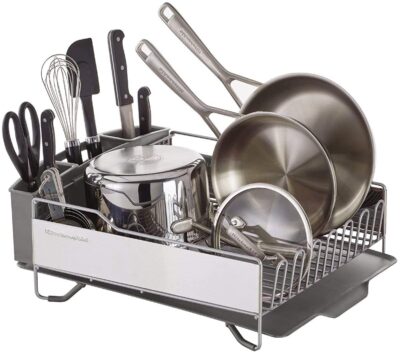 Click here to save up to 30% off KitchenAid Tools and More! KitchenAid has everything you need to whip up your favorite sweet or savory recipes while using your KitchenAid Stand Mixer, Blender or Food Processor. With a complete line of tools and gadgets, KitchenAid will make the most beginner baker feel like a professional. Available in KitchenAid's most popular colors, expertly measure your favorite ingredients then mix and whisk in a durable mixing bowl with an easy pour spout. This KitchenAid Full Size Dish Rack, Light Grey is only $39.89. 
Multi-Functional: Large capacity, designed to drain over any sink or atop a drying mat on the countertop, this dish rack can handle assorted dinnerware such as plates, bowls, and cups and full sized pots and pans

High Quality: Heavy duty, satin coated, rust resistant wires secure items and soft feet keeps dish rack from scratching countertops

Easy Draining: Self-draining board is designed with the perfect pitch, to avoid water pooling in the rack and is removable for easy cleaning

High capacity storage: Removable flatware Caddy, with built in, dishwasher inspired handle and adjustable compartments for cutlery and specialty items

Easy to clean: All parts are removable and easy to hand wash when needed; This dish rack comes with a 1 year hassle free replacement and lifetime limited warranty
This post contains affiliate links.