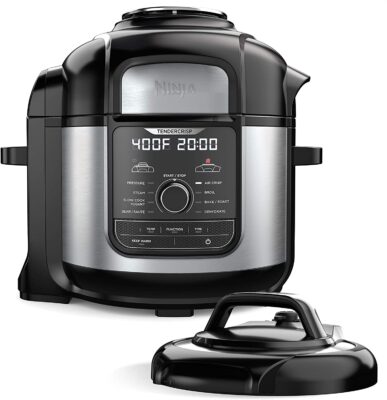 Meet the Ninja Food Deluxe pressure cooker. The 8-qt. Deluxe pressure cooker that crisps. Tender crisp technology lets you quickly go from frozen to crispy in as little as 20 minutes. The 8-qt. Cooking pot and 5-qt. Cook and crisp basket make it easy to cook and air fry delicious treats and meals in an instant. The Stainless Steel finish and enhanced user interface provide the most premium Foodi experience yet. Dishwasher-safe parts – Yes. Today only, score the Ninja FD401 Foodi 8-Quart 9-in-1 Deluxe XL Pressure Cooker Air Fry, Crisp, Steam, Slow Cook, Sear, Saute, Bake, Roast, Broil, Yogurt, Dehydrate, Extra Large Capacity, 45 Recipe Book, Stainless Finish for only $141.54.
THE NINJA FOODI DELUXE: The deluxe pressure cooker that also crisps.

TENDERCRISP TECHNOLOGY: Quickly pressure cook ingredients to lock in juices, then give them a crispy, golden air-fryer finish.

XL 8-QUART CERAMIC-COATED POT: Extra Large Capacity, Nonstick, PTFE PFOA free, and easy to hand-wash.

XL 5-QUART COOK & CRISP BASKET: Extra Large capacity, ceramic-coated, PTFE PFOA-free nonstick basket is dishwasher safe and holds up to a 7-lb. chicken to feed your whole family.

DELUXE REVERSIBLE RACK: Steam and broil, as well as TenderCrisp up to 8 chicken breasts at once or add servings to layered 360.

9 FUNCTIONS: Pressure Cook, Air Fry Air Crisp, Steam, Slow Cook, Yogurt, Sear Saute, Bake Roast, Broil, Dehydrate.

45 RECIPES: Inspiration guide featuring delicious recipes to get you started in your Ninja Foodi Deluxe.
This post contains affiliate links.