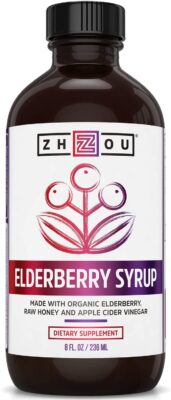 Today only, save up to 30% off immune supplements from SmartyPants and more. Fuel your immunity and power through any season with elderberry syrup, a powerful syrup that delivers a powerhouse combination of organic elderberry, organic raw honey, and organic apple Cider Vinegar. Sambucus elderberry has been used for centuries for it's immune-supporting antioxidant flavonoids that stop free radicals in their tracks. Elderberry syrup offers one of the highest potencies of elderberry on the market at 125mg per serving– it's your 3-in-1 immunity booster for every season. Right now, Zhou Elderberry Syrup | Immune System Booster During Cold Winter Months | 8 fl oz is only $9.51. 
Your Superior Immunity Support Elderberry Is Used Around The World As Immunity Support That May Also Deliver Potent Antioxidants To Help Fend Off Free Radicals In The Body…

Formulated For Defense Support This Unique Formula Combines Just The Right Amount Of Organic Elderberry, Organic Raw Honey, Organic Apple Cider Vinegar, Propolis, And Echinacea To Make Sure Youre Giving Your Body More Of What It Needs To Support A Strong Defense.

Antioxidant Powerhouse Antioxidants Are Your Wellness Bffs, Working To Fight Off Free Radicals And Keep Your Body Healthy, Balanced, And Functioning Properly. Elderberry is heralded for its antioxidant power and has the potential to support your immune system year-round.

Purity Created With The Highest Quality Organic Ingredients Without Any Artificial Colors, Flavors, Or Sweeteners. Our Elderberry Syrup is tested for purity so you can trust it to help you power through any season.

What Sets Us Apart? At Zhou, we use only the highest-quality ingredients in a facility following GMP (good manufacturing practices). Plus, we test everything at our lab in Utah, so you can be confident that you're fueling your body with the very best.

During the summer months products may arrive warm but Amazon stores and ships products in accordance with manufacturers' recommendations, when provided.
This post contains affiliate links.