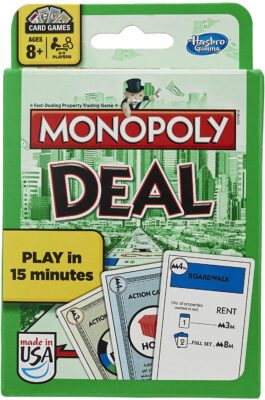 This is one of our family's favorite games! Click here for Monopoly Deal, only $5.49 today. Get a handy way to play the classic property-trading game! Be the first collect 3 full property sets of different colors, and you'll win the Monopoly Deal Card Game. You'll pick up cards when it's your turn and play Action cards to charge players rent, steal their cards or demand money for your birthday. Build up property sets, gather piles of money and keep wheeling and dealing until you're the Monopoly Deal winner! Click here to save up to 30% off Hasbro Games, Play-Doh, Nerf and more.
New Monopoly Deal card game that is moving through Family Game Nights everywhere

Collect 3 complete property sets but beware of the Debt Collectors, Forced Deals and Deal Breakers

If you are looking for a fun family/friend game, this is it

Now only plays up to five players which takes apprx 45 min to play w/5 people, apprx 35 min w/4, apprx 15-25 minutes w/3 people and apprx 5-15 minutes w/2 people

Fun, fast dealing…every card counts
This post contains affiliate links.