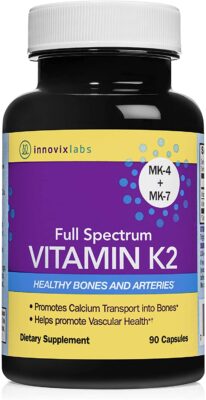 Save 20% off on Vitamin K2 and Omega 3 Fish Oil today only! Vitamin K2 tells your body what to do with calcium. When Vitamin K2 levels are adequate, calcium goes into your bones and teeth where it belongs. When Vitamin K2 levels are inadequate, calcium can deposit in soft tissues like arteries, kidneys, and the gum-line, where it can cause problems. Get the InnovixLabs Full Spectrum Vitamin K2 with MK-7 and MK-4, All-Trans Bioactive K2, 600 mcg K2 per Pill, Soy & Gluten Free, Non-GMO, 90 Capsules, Supports Healthy Bones & Arteries Vitamin K2 MK-7 + MK-4 for only $19.20 today. 
SUPPORTS BONE HEALTH: InnovixLabs Full Spectrum Vitamin K2 promotes calcium transport into bones and not soft tissues. These are small, easy-to-swallow pills that are soy-free and non-GMO.*

CONTAINS MK-4 AND MK-7: MK-4 and MK-7 are distinct vitamins and play separate roles in your health. Only MK-4 is found in the brain, fetus, and breast milk. MK-4 is the predominant K2 in the body. MK-7, which goes to work in the bones, is longer acting.*

ACTIVE TRANS MK-7 & MK-4: Contains MK-7 & MK-4 in the bioactive 'TRANS' form. Does not contain a blend of TRANS and CIS forms. The TRANS form is found in nature and foods and is recognized and easily absorbed by the body.*

VITAMIN K1-FREE FORMULA: Innovix Full Spectrum Vitamin K2 MK-4 and MK-7 does not contain K1. The human body recycles vitamin K1, so deficiencies are rare in adults. Excess K1 can also interfere with blood thinning medications.*

TESTED FOR PURITY, POTENCY, & FRESHNESS: Innovix Vitamin K2 Full Spectrum is encapsulated, tested, and bottled in California. Always verified by third-party testing for your peace of mind. Manufactured in a cGMP certified facility for safety and reliability.
This post contains affiliate links.