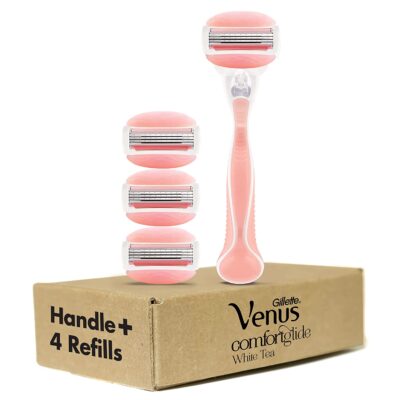 It's stock up time for Venus Razors! Click here to save up to 30% off Gillette and Venus shaving essentials. Venus razors for women are designed with a woman's body in mind. From handles designed for a comfortable grip to pivoting heads that contour to curves, Venus razors are designed to help reveal touchably smooth skin. Venus ComfortGlide White Tea razor blades feature 3 curve-hugging blades and built-in flexible Soap Bars that when wet, release light White Tea scented body butters helping the razor glide seamlessly over your skin. No need for separate shaving cream! Did you know that any Venus blade refill fits any Venus razor handle? Shave your way without buying a whole new Venus handle. Get this Gillette Venus ComfortGlide Razors for Women, 1 Venus Razor, 4 Razor Blade Refills, White Tea Scented Gel Bars for only $11.86. 
REFILLS FIT ALL VENUS RAZOR HANDLES

3 BLADES for a smooth shave

WHITE TEA SCENTED flexible soap bars

PIVOTING, ROUNDED HEAD hugs curves and fits easily into hard-to-shave areas

No need for separate shaving cream
This post contains affiliate links.