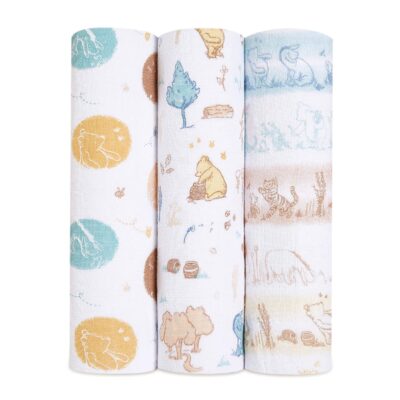 Click here to save on Baby Products from HALO and aden + anais! From breathability and natural give, to softness and durability, there are many benefits of our high quality muslin for your peace of mind and your baby's comfort. The word-of-mouth buzz our signature muslin products continue to create among parents, nurses, pediatricians, industry experts, lactation consultants and celebrities alike is a testament to the comfort our products provide to both baby and parent. Get this sweet and simple aden + anais Disney Baby Swaddle Blanket, Boutique Muslin Blankets for Girls & Boys, Baby Receiving Swaddles, Ideal Newborn & Infant Swaddling Set, Perfect Shower Gifts, 3 Pack, Winnie in The Woods for only $35.96. 
WINNIE IN THE WOODS – Celebrate the magical world of Disney with this endearing collection of comfy cotton muslin must-haves for baby and you.

COMFORTABLE & STYLISH – Breathable and comfortable muslin cozy fabric helps reduce the risk of overheating and is gentle against baby's sensitive skin; choose from a variety of girl, boy or unisex color schemes, signature prints and patterns.

LARGE, VERSATILE & STYLISH – Includes three 47" x 47" (120cm x 120cm) swaddle blanket. Our large sizes provide you and your little bundle of joy with enough space for wrapping & swaddling without having to fear that she / he will outgrow the blanket too soon! You can also perfectly use our baby blankets as a receiving blanket, swaddle sack and stroller cover.

NO MORE SLEEPLESS NIGHTS – Keep your little one from overheating while at the same time providing her / him with a nice comfy blanket. Swaddling recreates the snugness of the womb so your baby is provided with a well-deserved good night's sleep and enjoys the benefits of the most natural and soothing ways of resting. Our muslin blankets are specifically designed to match your little ones needs!

SATISFACTION GUARANTEE – Let our extraordinarily high quality lightweight & breathable muslin assure you that you're doing the best thing for your baby's comfort. Superior breathability, natural give, softness and durability. Baby essentials that provide happiness throughout generations!
This post contains affiliate links.