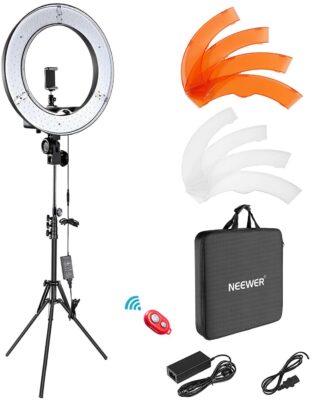 Elevate your cellphone status with today's deal: Save Up to 30% Neewer Ring Light Kit And Accessories! Take the perfect photo or create videos that are even more professional than ever. Get the Neewer Ring Light Kit:18″/48cm Outer 55W 5500K Dimmable LED Ring Light, Light Stand, Carrying Bag for Camera,Smartphone,YouTube,TikTok,Self-Portrait Shooting, Black, Model:10088612 for only $67.99 today!
Please note: 1. The light stand is packed in a separate box inside the big package box (under the ring light box at the extreme bottom of the box)as shown in the 2nd picture. If you can't find it, please contact seller customer service; 2. Instructions for unfolding the stand are in the 8th picture. The legs are upwards, so please unfold the legs upside down

Kit includes: (1)18″/48cm Outer 55W 5500K LED Ring Light+(1)61″/155cm Light Stand+(1)Soft Tube+(1)White and Orange Color Filter Set+(1)Ball Head Hot Shoe Adapter+(1)Universal Power Adapter with Plug+(1)Smart Phone Holder+(1)Carrying Bag for Ring Light

Dimmable 18″/48cm Outer 55W 5500K 240 Pieces LED bulbs with a wide dimming range from 1%-100%. Special LED SMD design, lightweight and portable

61″/155cm light stand is constructed from aluminum alloy, giving it exceptional strength; The soft tube Makes the light rotate freely for the best position. White and orange color filters are made of high light transmission plastic material with steady color temperature

A hot shoe adapter is compatible with Most DSLR cameras and a smart phone holder for most smartphones (iPhone 8 Plus/8/X/7/6, Samsung Galaxy S9/S8, Huawei, etc. ). Note: the camera and the smartphone in the picture are not include
This post contains affiliate links.