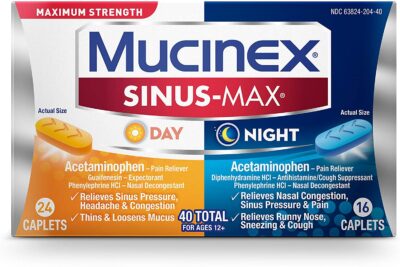 Restock your medicine cabinet with Today's Deal: Save on Mucinex Cold and Flu Medicine! During the day, you have to work. At night, you have to sleep. However, sinus congestion can make both difficult. Thankfully, relief comes in twos. Maximum Strength Mucinex Sinus-Max Severe Congestion Relief keeps your day time symptoms in check and relieves sinus pressure, headache and congestion. Get Mucinex Sinus-Max Maximum Strength Day and Night, Sinus Symptom Relief, 40 Count for only $13.32 today!
Day caplets help relieve sinus pressure, congestion and headache, plus thin and loosen mucus

Night helps to alleviate nasal congestion, sinus pressure, pain, running nose, sneezing and control cough so you're able to get to sleep

Maximum strength formula

Includes 40 caplets (24 Day caplets and 16 Night caplets)
This post contains affiliate links.