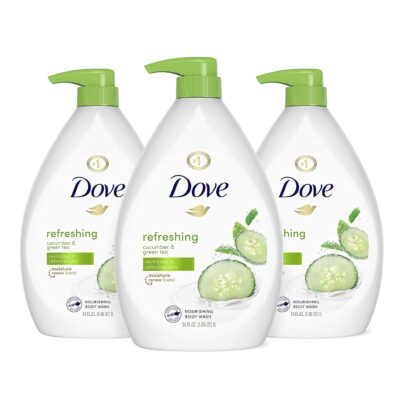 Save Up to 28% off on Dove Bath and Shower Gels and Body Scrubs and Treatments today! Looking for a skin cleanser that helps energize your senses and soften skin? The #1 Dermatologist recommended body wash, Dove Refreshing body wash revitalizes your skin and senses with cucumber and green tea extracts while moisturizing your skin. Get the Dove Refreshing Body Wash with Pump Revitalizes and Refreshes Skin Cucumber and Green Tea Effectively Washes Away Bacteria While Nourishing Your Skin 34 oz 3 Count for only $21.58. 
Out of hand soap? Dove Cucumber and green tea Body wash is just as effective for cleaning hands!

Mild and pH-balanced: Dove Refreshing body wash includes moisture renew blend-a combination of skin-natural nourishes and plant-based moisturizers that absorb deeply into the top layers of skin.

#1 Dermatologist recommended body wash: This cucumber and green tea Body wash nourishes skin with a rich, creamy formula, leaving your skin softer than a shower gel can.

Thoughtfully made: this body wash is PETA-certified cruelty-free and made in 100% recycled plastic bottles so you can feel good about switching from shower soap to Dove.

Plant-based moisturizer: naturally derived cleansers and skin-natural nutrients, Dove Refreshing body wash is microbiome gentle, so you'll feel beautifully nourished while maintaining healthy skin.
This post contains affiliate links.