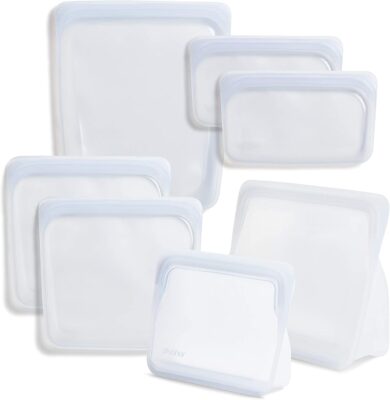 I've been wanting this Stasher Platinum Silicone Food Grade Reusable Storage Bag, Clear (Bundle 7-Pack) | Reduce Single-Use Plastic | Leakproof, Dishwasher-Safe, Eco-friendly, Non-Toxic set for so long and today's price is only $71.99! There are so many other kitchen essentials on sale from coffee makers, to blender bottles, vacuum sealers, and juicers! Click here to Save on Kitchen Essentials from KitchenAid, Hamilton Beach, Le Creuset, and more.
PURE NON-TOXIC PLATINUM SILICONE: The world's first fully functional, self-sealing, reusable alternative to single-use plastic bags. Plus, unlike traditional plastic bags, Stasher bags contain no BPA, no PVC, and no latex. Keep your food safe from contaminants in Stasher bags

ELIMINATE SINGLE-USE PLASTIC WASTE: Each Stasher eliminates thousands of single-use plastic bags from ending up in our oceans or landfills

PINCH-LOC SEAL: Features the innovative air-tight, pinch-loc seal to keep food fresh to store, marinade, and sous vide. Keep your food's nutrients, flavors and juices locked in. Just burp your Stasher to remove excess air and pinch the seal closed

DISHWASHER AND MICROWAVE SAFE: Platinum food-grade silicone is safe for use in the freezer, microwave, dishwasher, boiling water, and oven up to 400 degrees Fahrenheit

START YOUR STASH: Half-gallon 10.25"x 8.25"x 1.5" (64.2oz); Sandwich 7.5"x 7.5"x 1" (15oz); Snack 4.5"x 7.5"x 1" (9.9oz); Pocket 3.5″x 4.5″x 1″ (4oz); Stand-Up Mid 7.75″x 7″x 3″ (56oz); Stand-Up Mega 9.5″x 8.25″x 4.75″ (104oz); Stand-Up Mini 7.5″x 5.75″x 2.5″ (28oz)
This post contains affiliate links.