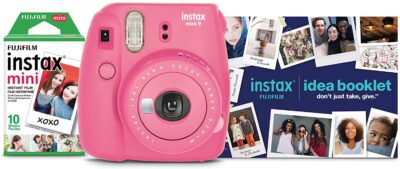 Click here to save up to 28% off Fujifilm Instant Cameras and Instant Film! These are a great gift idea, especially for teens! INSTAX Mini 9 has been updated for selfie shooters and features a range of convenient controls for producing credit card-sized prints. The sleek design incorporates a FUJINON 60mm f/12.7 lens, which offers a fixed focus from 2′ to infinity, and a small selfie mirror is built into the front of the lens design for accurately composing self-portraits. Alternatively, a macro attachment lens is included to reduce the minimum focus distance for working with close-up subjects. For general shooting, the optical viewfinder is available and incorporates a central target spot to aid in composing images. Bundle includes: Instax Mini 9 camera, Instax Mini Film 10 exposures and Instax Idea Book. Get this Fujifilm Instax Mini 9 Holiday Bundle 2021 – Flamingo Pink for only $54.99. 
Selfie MirrorAutomatic exposure measurement. The camera signals the recommended aperture setting with a flashing LED. This helps capture the perfect photo every time.

Selfie Mirror

Macro Lens adapter for close-ups – 35cm to 50cm

High-Key mode – Take brighter pictures with a soft look – perfect for portraits.

2 – AA Batteries
This post contains affiliate links.